The heat in lower Manhattan is insufferable. Ninety-three degrees and muggy. The urban dust swirls from construction sites. The congestion of cars on the asphalt makes it feel even hotter. Anxious faces crowd the streets under a hot sun. But inside the Dream Hotel in the Meatpacking District, the air is cool and clean and a hush has fallen over The Gallery. The large event space is mostly empty, save for a handful of early arriving media men and women assembling their cameras for what is to come. It is here that the SHOWTIME CHAMPIONSHIP BOXING fight card for Saturday night will convene for its final press conference in advance of the WBC Welterweight title bout between Danny "Swift" Garcia (34-1, 20 KOs) and "Showtime" Shawn Porter (28-2-1, 17 KOs).
An hour later, a large crowd has gathered, and a sumptuous smorgasbord of meats and pastas and cheeses has been set out for the attending crews. In separate rooms, across the space from one another, the two fight camps — Garcia's and Porter's — sit pensively, awaiting the summons to the stage, where they, along with the full lineup of fighters, will be plied with fresh questions by an endlessly curious media.
Photos courtesy of Pip Cowley for DIRECTV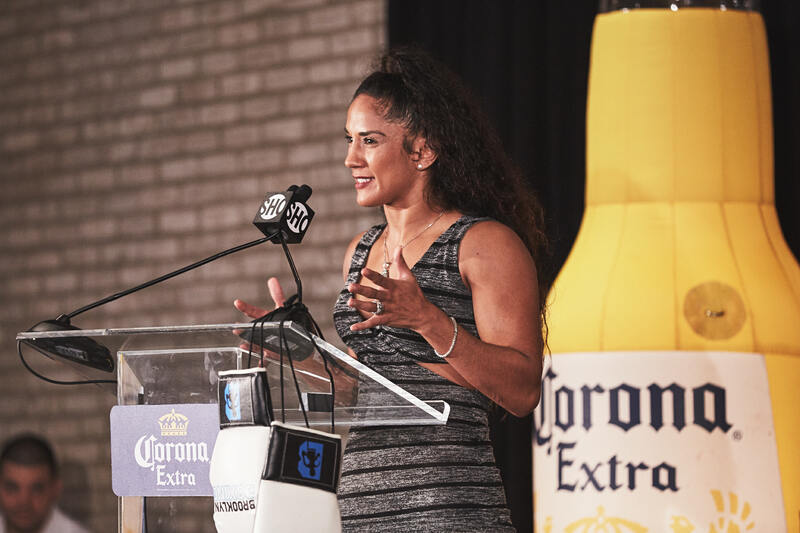 First up, Puerto Rican star Amanda Serrano (34-1-1, 26 KOs) tells the crowd that she always gets nervous being introduced at a press conference, but not on fight night. "Never in the ring, only here," she remarks with a smile, before describing her desire to conquer a sixth weight division, a professional achievement only attained by Manny Pacquiao and Oscar De La Hoya. Serrano fights on Saturday for the vacant WBO Junior Welterweight World Championship against Yamila Esther Reynoso (11-4-3, 8 KOs). Fans can catch the five-division champ when she headlines the live-streamed SHOWTIME CHAMPIONSHIP BOXING COUNTDOWN on the SHOWTIME Boxing Facebook Page on Saturday beginning at 7pm ET.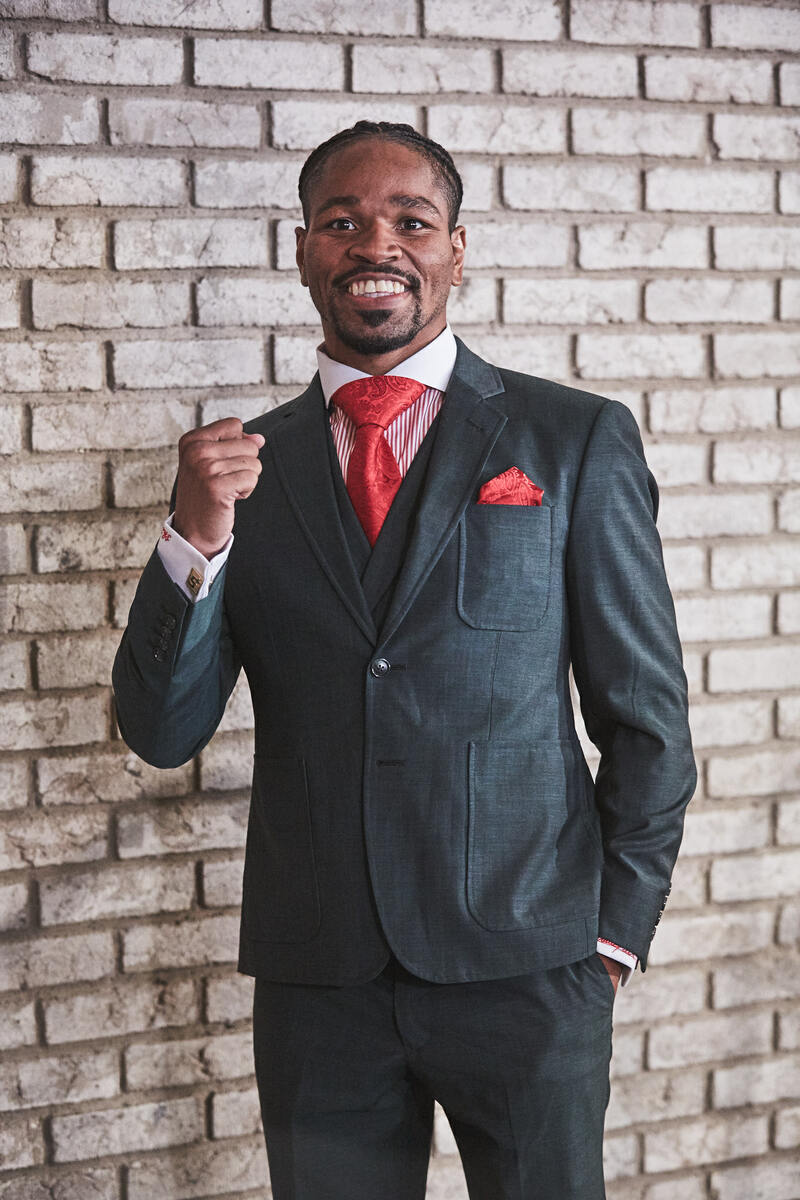 "Showtime" Shawn Porter, who entered the ring after Danny Garcia's TKO of Brandon Rios to challenge the victor, is impeccably dressed for the press conference of a fight he has long sought. His suits are tailor made, with custom touches that reflect Porter's sartorial interests, but also his calculated embrace of the promotional aspect of the business.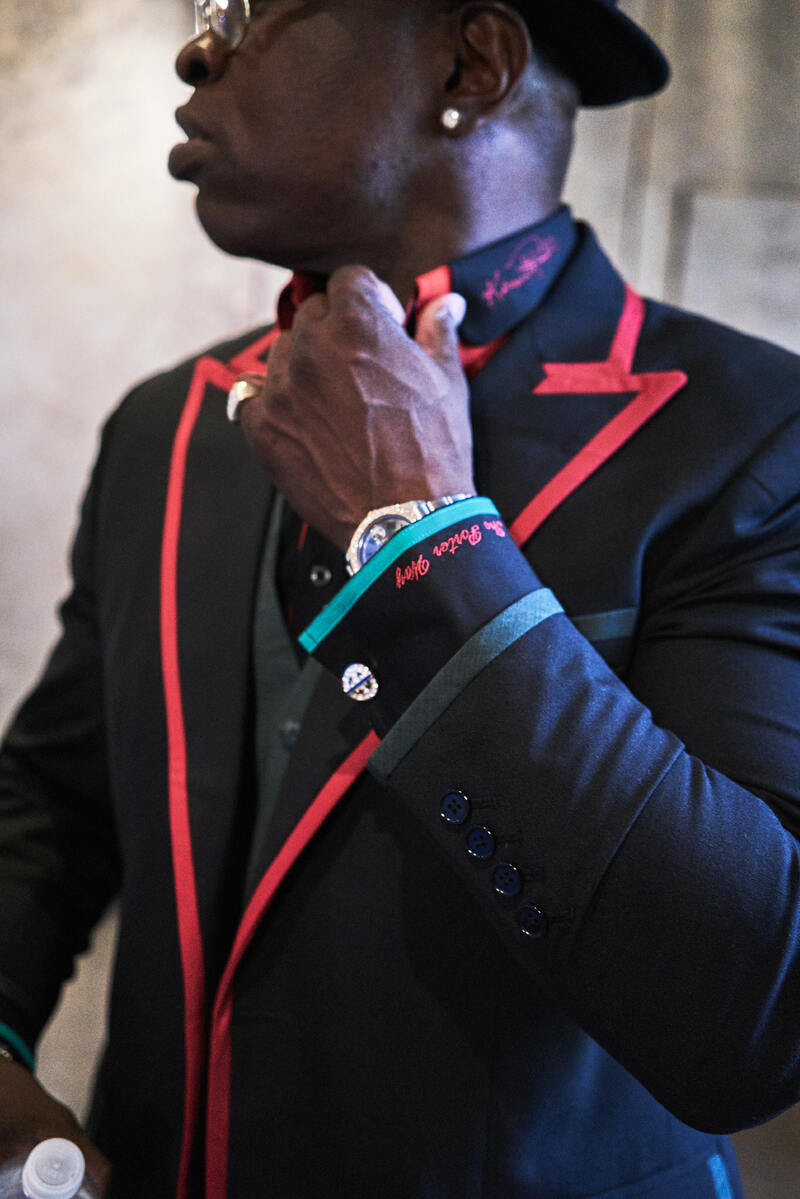 Porter's trainer and father Kenny Porter shares his son's taste for fashion. Both have their suits exquisitely tailored, with special cuff links, signatures embroidered on collars, and slogans on cuffs and the soles of their shoes. On the elder Porter's right cuff are the words, "The Porter Way."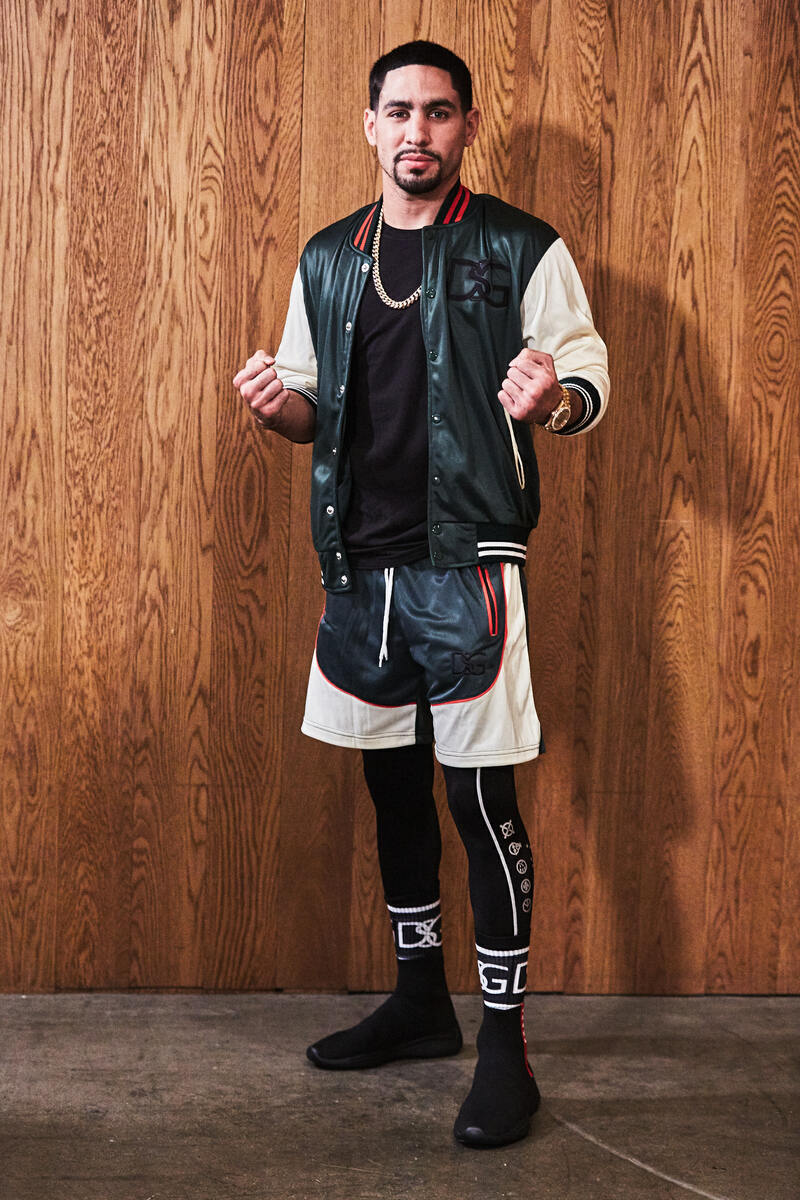 By contrast, Danny Garcia dressed more casually for the press conference, although in a wardrobe no less expensive. It is no coincidence that Garcia is fully clad in Dolce & Gabbana styles: the brand's initials are also, coincidentally or not, those of Danny Garcia.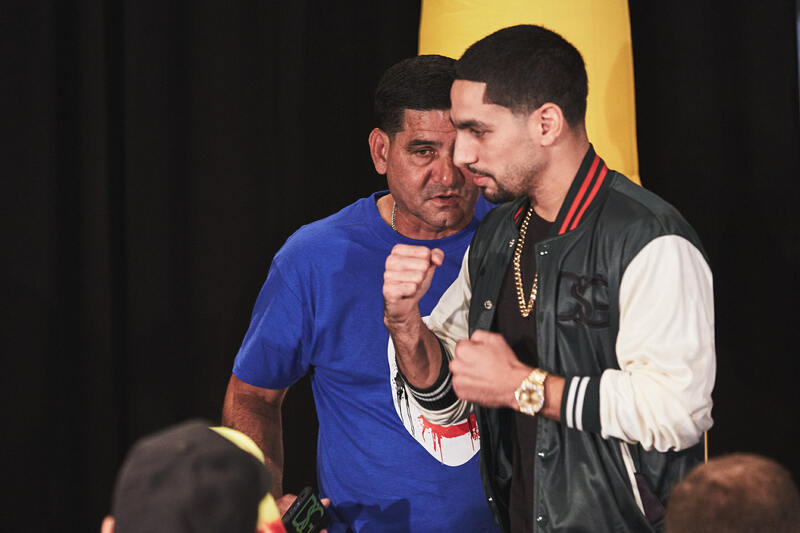 Angel Garcia, too, is comfortably casual for the press conference. Here they confer while Danny jabs the air with good-natured ease. He seems unfazed by the press corps and the clicks, flashes, and shouts that accompany them.

Advertisement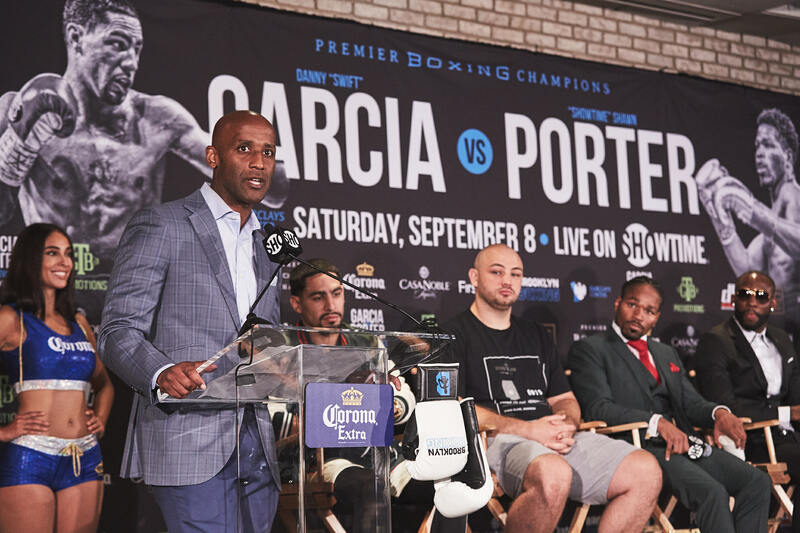 SHOWTIME's Brian Custer, a veteran of the fight game, provides some opening context to the bout, and then questions each fighter on their plans for Saturday night.
The full line up of Saturday's fight card sits in a row, listening to SHOWTIME's Brian Custer's opening remarks. Unruffled by the talented brawler two seats away from him, Danny Garcia is supremely confident in his skills. His hazel eyes flicker lightly over the crowd, expressing no fear of Saturday's crucible.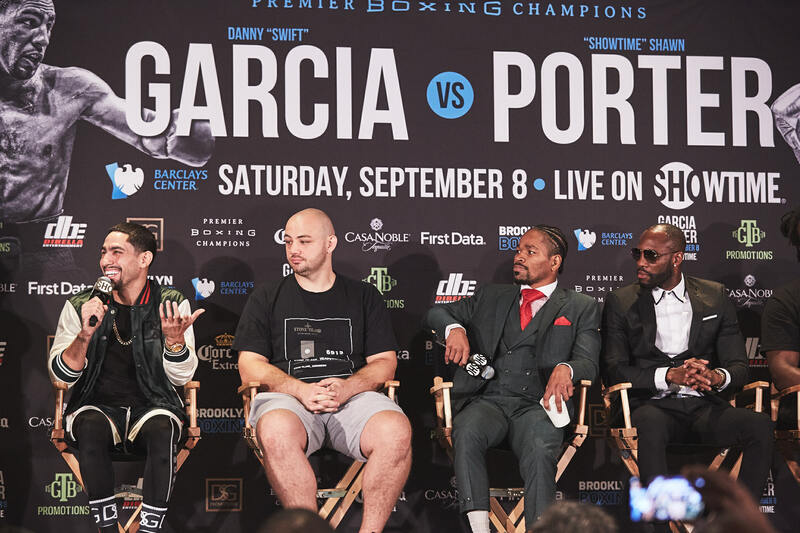 Responding to Shawn Porter's criticism that he cherry picks his opponents, Danny Garcia says, "If I'm a cherry picker, don't that make you a cherry?" Without missing a beat, Porter replies, "He hasn't found a cherry; he's getting in the ring with a pit bull."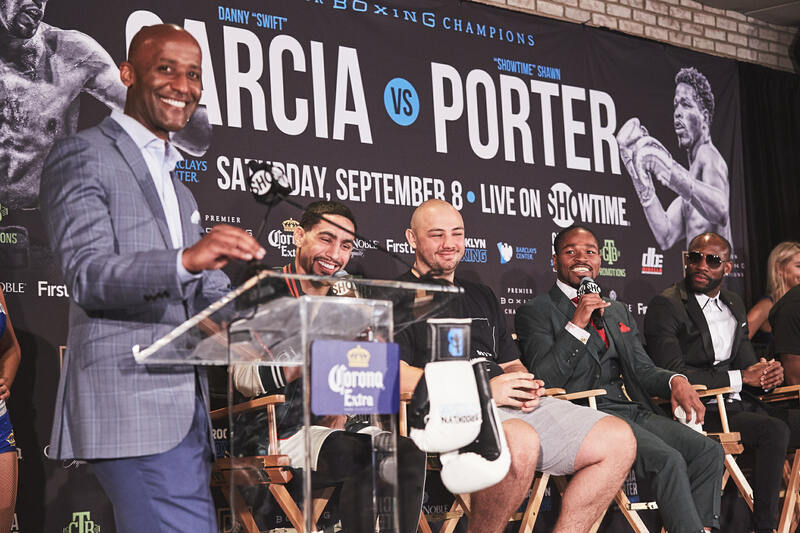 Despite the rivalry, the fighters, the presenters, and the crowd share a few laughs as the boxers lightly mock each other.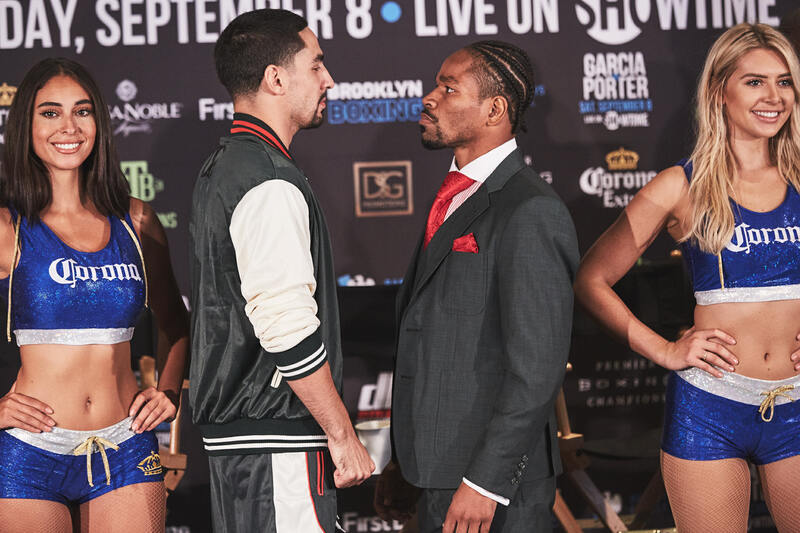 The fighters face off as the press conference finishes with the formalities. Apart from the not inconsiderable question of making weight, the hurdles have been crossed, the talking is over, and only the bout itself looms over the two men.
In one-on-one interviews and in the press, there's a sense that Garcia is the favorite, as he is in Vegas (Keith Thurman's verdict notwithstanding). His has the easy manner of a champion. In some of his comments he seems to perceive Porter as no more than a paycheck, another man in the way of his belt reclamation project. For his part, Porter seems to have the urgency of a man anxious to prove something—to himself, to the world, or both. Though he, too, is a former world champion, Porter is the betting underdog. But his irrepressible spirit and propulsive energy, doubled by that of his trainer and father Kenny, belie a compact and concrete power that will confront Garcia on fight night.
Porter seems the kind of man who is used to beating the odds; Garcia a man used to confirming them. Yet both fighters have conquered immense summits in the sport. This contrast in styles and dispositions will finally clash on Saturday night, where the fighters will battle to reach a peak that only has room for one.
The SHOWTIME CHAMPIONSHIP BOXING telecast also features top 147-pound contender Yordenis Ugas (22-3, 11 KOs) battling against Argentine Cesar Barrionuevo (34-3-2, 24 KOs) in a WBC welterweight title eliminator showdown. Heavyweight contender Adam Kownacki (17-0, 14 KOs) and former champion Charles Martin (25-1-1, 23 KOs) will open the telecast with a 10-round attraction.
Check back tomorrow for the final installment of our three-part photo-essay, when the fighters mount the scales for the all-important weigh-in.
Don't miss this epic clash of welterweight rivals, September 8th at 9PM ET/6PM PT on SHOWTIME CHAMPIONSHIP BOXING and DIRECTV.
Don't have SHOWTIME? Upgrade today and get the best of SHOWTIME CHAMPIONSHIP BOXING, including Garcia vs. Porter!