Even with the power of the Elder Wand, fans of the Wizarding World couldn't have conjured a more magical way to experience the brand new trailer (a day early!) for Fantastic Beasts: The Crimes of Grindelwald.
Yesterday, a crowd of passionate superfans filled a small, exclusive screening inside the Whitby Hotel with whoops and cheers throughout the new trailer, released worldwide today. But we weren't alone. Sitting among us for two back-to-back viewings of the spectacular new trailer were many of the films' stars: Ezra Miller, Dan Fogler, Claudia Kim and Callum Turner.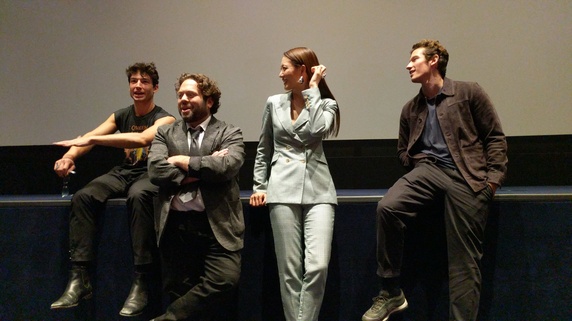 Just your every day Monday, hanging with Ezra Miller. (Warner Bros.)
There was such a dizzying amount of exciting new information revealed, Miller himself successfully advocated for a third showing — to the delight of the electric crowd.
It was just one of my many star-studded stops on a whirlwind adventure celebrating the release of the new trailer.
The festivities began early, as attendees awoke to a video message in their email from the film's star Eddie Redmayne expressing his regret over missing the event to shoot another film.
Any disappointment was quickly eased with swag bags packing a Fantastic Beasts Alex and Ani charm bracelet, Wizarding World LEGOs, a t-shirt and, of course, a wand.
"Oh my god, it's so beautiful!" one fan exclaimed while opening a charmingly packaged Elder Wand replicate. "I officially have too many wands," remarked another only to be called "hashtag wand queen" by a nearby fan.
But even the most cynical "no-maj" (the American equivalent of "Muggle") among us couldn't possibly resist feeling the magic as the group was joined by none other than the mastermind of the Wizarding World, J.K. Rowling herself.
Fresh from an appearance on NBC's TODAY Show, Rowling appeared for photos, mingling, and a little dish. Between hugs, high-fives and fist-bumps, she warned the crowd to stay quiet until the end of the trailer, "because there is a name you'll want to hear." You could feel the room vibrating.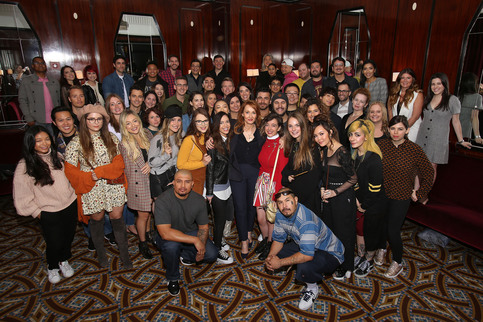 NBD just me in a photo with J.K. herself. (Warner Bros.)
Of course, she was right. Having seen the trailer a full day before its release, I was sworn to secrecy by threat of being Obliviated. Hate me yet? Luckily for you, the new trailer dropped this morning:
As if watching the trailer with the film's stars and getting the inside scoop from Rowling herself wasn't enough excitement (oh, there were tears), the audience had several opportunities to go even deeper into the Wizarding World.
Outside the screening room, participants were able to take flight — no Leviosa required. After perfecting my RWF (Resting Wizard Face), I took my mark in front of a green screen for a little technology-assisted magic that placed my image inside a floating bubble attraction at Le Cirque Arcanus.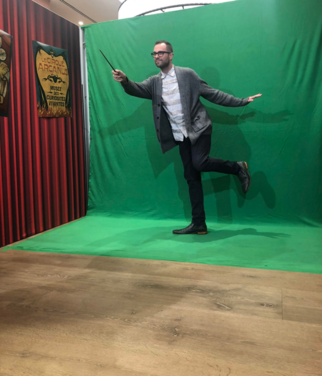 Resting Wizard Face (Warner Bros.)
The immersion continued at our next stop, The Loft, a space that felt ripped from Fantastic Beasts' vintage setting. Up a creaky staircase, through some light construction dust, it was easy to imagine Fogler's character Jacob Kowalski traversing similar steps after a long day at the bakery.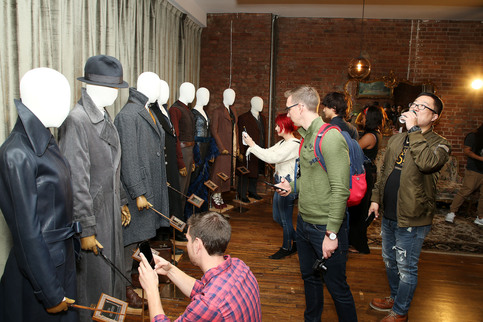 Inside, costume designer Colleen Atwood showcased some of the film's stunning period wardrobe, and prop modeler Pierre Bohanna discussed the process of making the stars' unique wands. Much like their costumes, each wand represents a part of their owner's journey. Whether it's the mother of pearl, Art Deco details on Queenie's wand or the simple, utilitarian wand belonging to Newt Scamander, every wand is customized and unique. It's why Bohanna can't choose a favorite.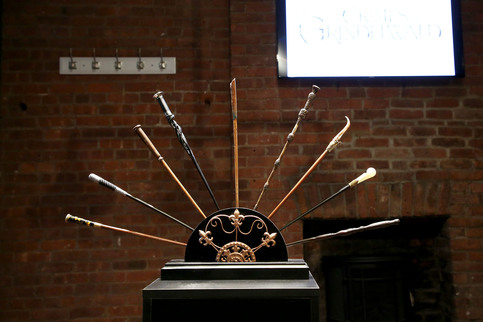 "They're all my children," he said.
While we inspected the wands and wardrobes, the films' stars Zoë Kravitz, Alison Sudol and Katherine Waterston mingled with the crowd, cheerily chatting and posing for pictures. If you're keeping count, that's three surprise celeb drop-ins and one Eddie-email.
They joined their castmates from earlier in the day at our final stop, the iconic Campbell Speakeasy at Grand Central Station. Inside, another photobooth allowed us to see what it would look like to Apparate (the Wizarding World equivalent of teleportation).
Not that we'd want to go far. In between nervously eating macarons, I managed to rub elbows with the film's stars. Miller and Fogler, in particular, appeared to relish the chance to share in fans' enthusiasm.
"You know what would be dope?" Miller asked a nearby fan. "The origins of the Elder Wand and the story of the brothers three."
It seems even the cast can't help but stan Rowling's Wizarding World.
And once you see what's in store for Fantastic Beasts: The Crimes of Grindelwald, you'll be powerless to resist as well.
Fantastic Beasts: The Crimes of Grindelwald premieres Nov. 16.