The Tribeca Immersive runs through April 28th at the Festival Hub (Spring Studios) and gives attendees the opportunity to explore the latest in virtual reality. Buy tickets here.
I'd never watched a movie and felt like I was also starring in and directing it.
The 2018 Tribeca Film Festival and AT&T have partnered on Tribeca Immersive: a hands-on experience that incorporates virtual reality, augmented reality, and several other state-of-the-art technologies to change the way we engage with movies. Don't worry if AR and VR are sci-fi movie terms to you; before this, I'd never put on a VR headset. But at Tribeca Immersive, it's easy to get sucked into the exhibits, and they were unlike anything I've ever experienced before.
Tribeca Virtual Arcade
In the Tribeca Immersive's Virtual Arcade, you are given free rein to stop in any of the 26 exhibits during your three-hour ticketed session. One of the first VR exhibits I visited was called The Dinner Party, where I was seated at a dining table in a swivel chair and my VR headpiece was strapped on. Immediately my expectations of what could be done in virtual reality were altered; I wasn't stationary, sitting somewhere; the camera was drifting through the room, allowing me to see anything I wanted, while subtly nudging me where to look.
Dinner Party tells the incredible story of Betty and Barney Hill, an interracial couple who made the first report of a UFO abduction in America in 1961. In the film, our hosts (the Hills) stop their dinner party to tell their guests about the abduction. Betty starts to play a recording of a hypnosis session of their memories and suddenly I am drifting forward, out of their dining room window, and down a busy stretch of highway — experiencing the Hills' memories. Suddenly a bright light appears behind their car…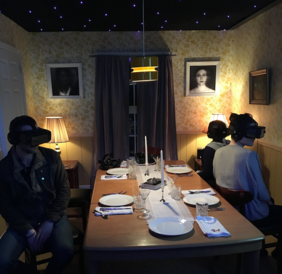 I won't spoil exactly how the alien abduction is portrayed in VR, but it is at times incredibly beautiful and at other points, incredibly scary. The whole experience would have been impossible to create in any other medium. I was transported along with the Hills and felt as though I had left Earth. At the end of their story, I took off my headset and left along with their party guests, having all gone through a harrowing journey and back again in minutes.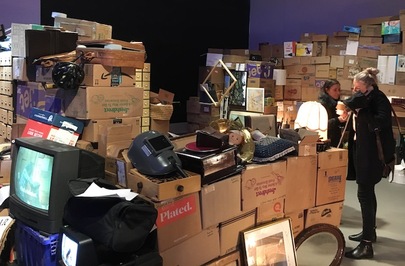 In the next exhibit I selected, I walked through an area packed with boxes and drawers of junk and was encouraged to touch and pick up anything I wanted — then, while looking through the experience's special viewers, video clips, art pieces, and full 360-degree videos appeared before my eyes. This was a fusion of augmented reality technology with an immersive theater installation called objects in mirror AR closer than they appear, based on the critically acclaimed theatrical performance The Object Lesson.
Here's a small fragment of the experiences in this exhibit:
When I look at an old book of recipes, suddenly an equally old commercial for Jell-O plays.
That baseball poster suddenly transports me to the pitcher's mound mid-game at a baseball stadium.
I look at ice skates and suddenly am sitting on a dinner plate while a man wearing the skates stomps and chops vegetables, throwing them on top of me.
The final exhibit I visited in the Virtual Arcade was My Africa, a VR experience that transported me to a Kenyan animal sanctuary. I loved it, which shouldn't be surprising because in this film I was surrounded by baby elephants. The experience also made me feel like a superhero when a landing helicopter's blades kicked up a huge cloud of dust that I didn't need to shield my eyes from. I could stare straight ahead, unblinking. Aside from this VR superpower, the story's emotional message about conservation and global warming was conveyed in one of the most effective and eye-opening (pun not intended) ways I've ever encountered.
Tribeca Cinema360
The second program in Tribeca Immersive is Cinema360, which bridges the movie theater experience and the world of VR by putting you in the middle of a series of short, immersive films where you have a 360-degree view. Seated in a swivel chair, I watched It's Right Behind You, a collection of horror shorts that had me standing on the wall above the bed in a truly creepy hotel room, buried in the woods to my neck, surrounded by skulls, and outrunning a demon. Although the stories were chilling, I was in control. If something was too frightening, I could just turn my head and look into the peaceful woods. Or I could really try to stare down the creepy hotel concierge.
All this just scratches the surface of Tribeca Immersive. I only experienced a handful of the Arcade's 26 experiences and the four Cinema360 stories. There's no way to take in all the experiences in one visit, but you can rest assured that whichever exhibits you do see, you will be seeing some of the most creative and thought-provoking uses of virtual reality storytelling. The Tribeca Film Festival and AT&T have created an experience unlike any other, and it's made me truly excited for the future of film and storytelling.
---
Stream these movies and more, here.
Learn to watch them on the go, here.
Switch to AT&T wireless now, and save.