Audience Network's hit psychological thriller Mr. Mercedes is back with season two beginning Aug. 22. In the season premiere, titled "Missed You," Bill Hodges (Brendan Gleeson) is trying to move on from his mutual obsession with murderer Brady Hartsfield (Harry Treadaway), only to have tragedy strike in another way that will perhaps pull him back into Brady's orbit.
Brady Watch
aka what's going on with the brain-dead mass murderer
Everyone's favorite mass murderer has been left in a vegetative state after Holly (Justine Lupe) whacked Brady upside the head to prevent him from blowing up an arena full of tween girls. On the outside, he shows no signs of life.
However, at the end of the premiere episode, Brady is shown "alive" within his own mind — he may be a vegetable, but the neurons are firing inside his brain and his subconscious has begun plotting within its very own lair. A Brady museum, if you will, complete with his family's gravestones, his computer set-up and even the bloody Mercedes he used to kill 16 innocent people in season one. As Cora Babineau (Tessa Ferrer) helpfully sums up in regards to Brady, "He's a monster. From a fairytale you would only tell to children you hate."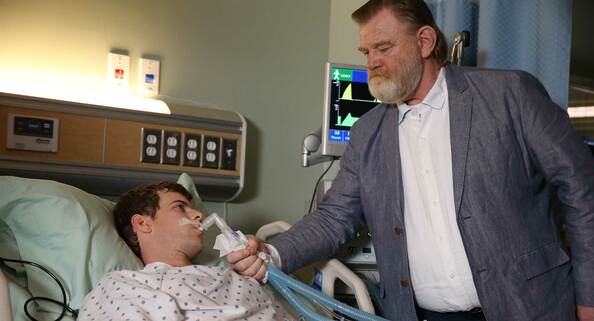 Also, in case you were a little confused about why the series picked up with Brady's hospital storyline instead of the Finders Keepers storyline of Morris Bellamy, Peter Saubers and John Rothstein, executive producer Jack Bender tells us that skipping book two of the trilogy was really the only choice for the writers' room.
"I'm a big fan of Finders Keepers the book, but part of the challenge in season two is that in the [second] book our heroes come in at like page 250. And we discussed it, whether we should do that, but what we decided is we still wanted the show to be very much about Hodges and Brady," says Bender, adding "[Finders Keepers] was a lot to let go of, but at the same time it made the most sense, to start where we left off [in season one] and follow the characters on this journey."
Hodges Watch
aka what has our dear friend Bill been up to?
A helpful montage of Bill recovering from his heart attack lets us know that quite a few months have passed since the events of the season one finale. Bill and Holly are now operating a two-person private investigator business and Bill has managed to shove his Brady obsession to the back of his mind.
That is, until tragedy strikes and now Bill begins tugging at the Brady thread again, which manifests itself in the form of a hilarious-yet-creepy dream sequence…more on that soon!
End of Watch
aka changes from the novel, for you book nerds out there…and, yes, potential spoilers ahead
Let's get this out of the way right up front — we are devastated that the show decided to kill off Bill's ex-partner Pete (Scott Lawrence). We asked EP Bender about that choice and he tells us that it was what made the most sense in the context of the season as a whole.
"We decided that, given the arc of the season, there wasn't going to be enough for [Lawrence] to do to serve his character well," says Bender. "We didn't want him doing very little; we also felt that loss [of Pete] would emotionally charge the beginning of the season. [Lawrence] was very generous to accept his fate in the show and be wonderful in the episode."
That all makes a lot of sense. But still — nooooo! Not Pete!
So, that's a huge change from the book (and a huge bummer). But there are a couple other big changes as well.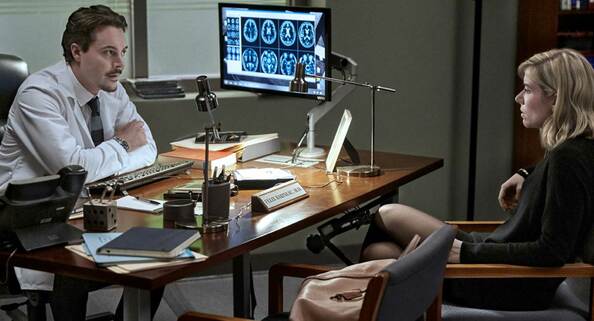 Dr. Felix Babineau (Jack Huston) and his wife, Cora, are much more significant in the show than they are in the book, especially Cora. In End of Watch, Dr. Babineau's off-the-books treatment is what jump-starts Brady's mental recovery, but Babineau is much more a means to an end than a fleshed-out character. Similarly, Cora is hardly a character at all in the book, but on the show, she's almost the mastermind behind the experimental treatment, which is a cool choice.
Additionally, Bill's ex-wife Donna (Nancy Travis) is a significantly bigger character here than in the book. In the book, she's never seen by the readers, only referred to in passing by Hodges. But she appeared briefly in season one and now is back in a recurring role for season two. It gives another dimension to Bill's personal life, which is nice, especially in light of Pete's death.
And speaking of characters dying, book readers know that End of Watch is Hodges', well, end of watch. He dies of cancer at the end of the book. But Bender tells us that they're planning on a third season of the show, so the cancer won't come into play this season.
"[We] made a decision not to play the cancer yet," Bender tells us. "There will be a season three … I mean, it's not official, but…"
One to Watch
aka the best scene of the episode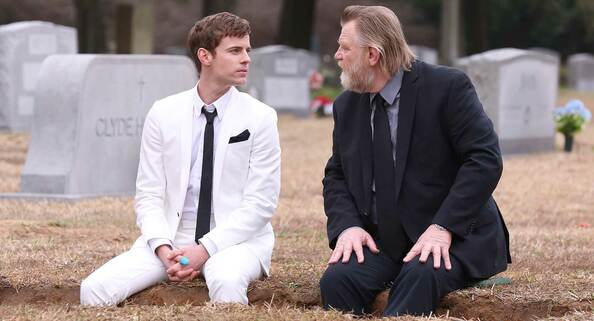 Easily the highlight of the season two premiere is Bill's dream sequence and Brady's awakening. First, Bill dreams he's visiting Janey's (Mary-Louis Parker) grave and Brady appears to tell Bill that his obsession with Brady is what keeps Hodges alive. They take quite a trip through a grave into the hospital, then climb back out and Brady sings, plays the ukulele, drinks a martini and dances on a grave. It's delightful and segues nicely into Brady's mental trip to his lair.
I was wondering going into this season how the show was going to visually represent Brady's mental state and having him interacting inside his own Brady museum is a great way to get that across to the audience.
King-dom Watch
aka how does the master himself feel about the show?
King has never been shy about both praising the adaptations of his work he likes and saying… less than nice things about the ones he doesn't. So you know he isn't just paying lip service when he says Mr. Mercedes is "a damn good show." In fact, Bender told us that King has been incredibly supportive of the entire endeavor.
"Stephen adores the show," says Bender, adding that the author is also "very generous" when they want to make changes. In fact, midway through season one, King wrote to Bender to praise a change they made for the series that he wishes he had thought of when writing the book.
"I let the writers know that we were clearly doing something right," says Bender. "It was a high compliment coming from the master."
Enter the twisted world of Mr. Mercedes with us! New episodes Wednesdays at 10 pm on Audience Network, only on DIRECTV and DIRECTVNow.
TV critic by way of law school, Andrea Reiher enjoys everything from highbrow drama to clever comedy to the best reality TV has to offer. Her work can be found at The A.V. Club, Entertainment Weekly, PopSugar, Variety and more. Her TV heroes include CJ Cregg, Spencer Hastings, Diane Lockhart, Juliet O'Hara and Buffy Summers. TV words to live by: "I'm a slayer, ask me how."