E3 2019 is in full swing and while we will cover the full spectrum of gaming goodness during the week, we're going to kick things off with some news that developed over the weekend.
Star Wars Jedi: The Fallen Order (PC, PS4, Xbox One – Nov.15)
The biggest reveal from EA came in the form of gameplay from the upcoming Star Wars Jedi: The Fallen Order, the latest attempt to recreate the epic battle between the (mostly) benevolent Jedi and the evil Empire. Set post-Revenge of the Sith and pre-Rogue One, Fallen Order follows a young Jedi named Cal Kestis who managed to escape the infamous "Order 66" that killed off most of the Jedi and left survivors scrambling to the far corners of the Universe.
Developed by Respawn Entertainment, famous for the Titanfall series as well as the recent Apex Legends, Fallen Order is a third person action-adventure in which Cal must use Force powers, lightsabers and environmental objects as he traverses several planets with his agile little droid buddy, BD-1, battling Stormtroopers, alien creatures, and new antagonist, Second Sister Inquisitor, in order to free the galaxy from the clutches of the Empire.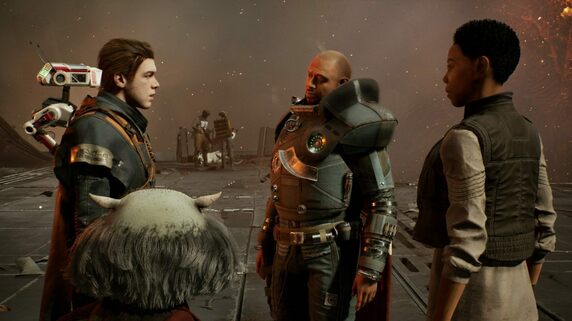 EA showed 14 minutes of gameplay in which Cal embarks on a mission given to him by Rogue One rebel, Saw Gerrera (voiced by Forest Whitaker), to free some Wookies who have been taken prisoner inside a refinery on their home planet of Kashyyyk.
With close-quarter duels, wall-running, and Force-pushes a plenty, Star Wars Jedi: The Fallen Order looks to have all the tools to rank high on gamer's holiday wish lists. But we'll have to wait until November 15th to see if Cal has what it takes to earn a spot in the hearts and minds of even the most Sith-like Star Wars-enthusiasts.
Best of the Rest:
EA also unveiled interesting modes and downloadable content for some of their more popular titles – including a new support character for Apex Legends, a street-ball mode for the upcoming FIFA 20, a tropical expansion for Sims 4, and new maps for Battlefield 5.
Apex Legends – Wattson (PC, PS4, Xbox One – July 2)
FIFA 20 – Volta Football Mode (PC, PS4, Xbox One – Sept. 27)
Sims 4: Island Living (PC, Mac – June 21; PS4, Xbox One – July 16)
Battlefield 5: Chapter 4 and 5 (PC, PS4, Xbox One)
Al Sundan Map (June 24)
Marita Map (July)
Iwo Jima, Nordic Maps (Fall 2019)