Journal Entry:  6/11/2018
The fever dreams are back. Horrid nightmares from my subconscious dancing, taunting my memories. Anthropomorphic dead-eyed pandas, the queen of hearts, hipster ring masters challenging my grip on reality…Wait, wait, never mind. It's a weirdly choreographed dance routine for Just Dance 2019.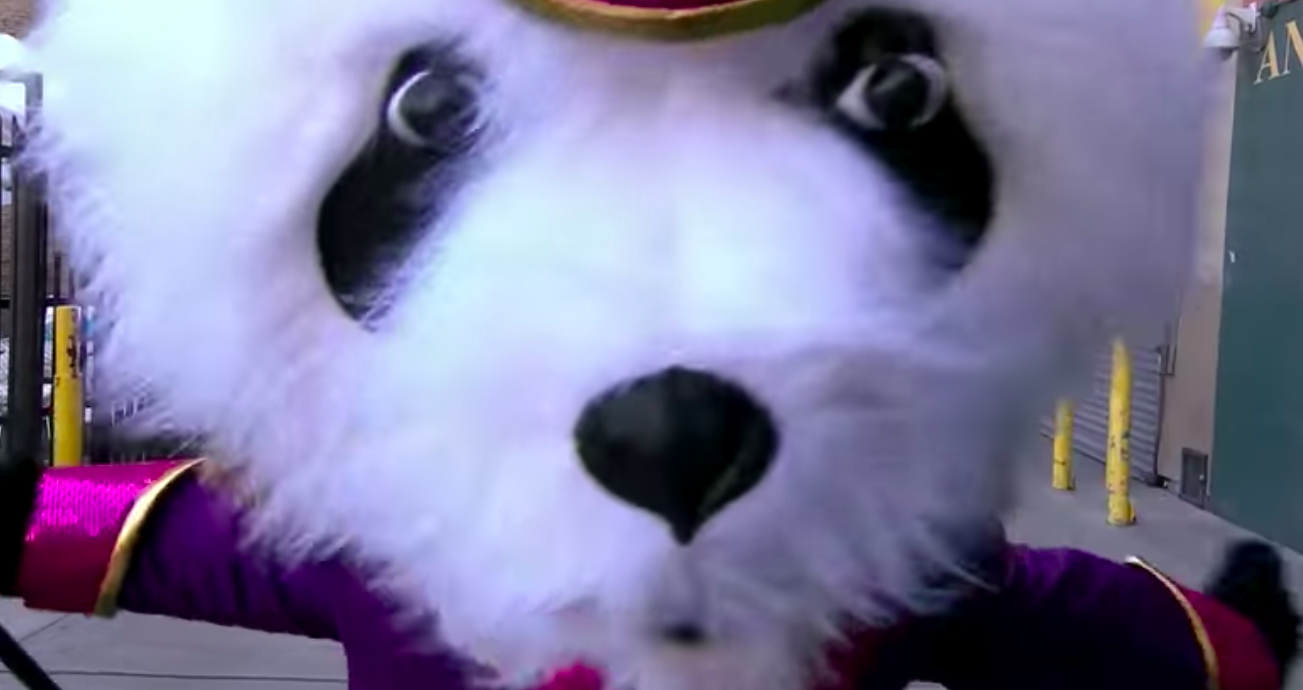 Actually, Ubisoft kept the weird going with space monkey's, pirates, indestructible motor crossers, ancient assassins, viral pandemics, fabled knights, samurai, and vikings. Which is exciting as it sounds; in fact, even Gabrielle Shrager couldn't contain the excitement as she got off stage. Her mic was still hot and you could hear "We nailed it, WE NAILED IT". Which was really cute and had the audience laughing.
Beyond Good and Evil 2
Before I even bother to talk about this game, just watch the cinematic trailers over the years (it was initially announced more than 8 years ago).
While the game has tremendous promise, can we just get this movie already, please? K Thnx. The game itself only made a brief appearance via some "Pre-Alpha footage". The promise is that we'll have a seamless switch from street level antics to spaceship battles. All of which you will be able to do solo or with a crew. That's a big promise, so we'll keep looking to the skies for this one, likely sometime in 2019.
Perhaps the most intriguing part of the presentation is the SMP program. Affectionately, that stands for Space Monkey Program, where "anyone" can sign up. In cooperation with Joseph Gordon Levitt's Hit Record company, there will be a massive "collaborative" effort to make assets for the game. Musicians, designers, animators, illustrators, and writers of all skill levels will come together to create parts of the game. How exactly this is going to work and where exactly these assets are going to appear are not yet known. But definitely keep an eye out on this very unique approach to game production. 
Assassin's Creed: Odyssey
In the latest installment of Assassin's Creed, we find ourselves in ancient Greece during the Peloponnesian war. The emphasis on this installment seems to be causality.
This huge world boosts depths and ripple effects around the all the choices you make. The side missions will affect the main mission (if you throw someone off a dock, they'll remember that). Dialogue with NPC's will affect how they treat your character, aiding or diverting your path. They are calling it "interactive dialogue". This adds a newfound complexity and weight to the game, which arguably was getting repetitive. While this concept is not new to the gaming world, this particular iteration could make for a lot of fun and replay-ability.
Few more details about the game, is that you have two characters to choose from, male or female. Which at first glance have the same abilities, but have different parts of the story to tell. Lastly, sailing and naval combat have been added to the list of things to do.
Skull & Bones
Don't tell anyone over at Rare, but this pirate game looks absolutely amazing. The story goes that pirating has shifted to the Indian Ocean trade routes and you and your crew are to steal, fight and outmaneuver everyone on the water. The graphics look incredible, paired with some deep strategy where you can customize ships and vary your attack plans to keep your enemies guessing. Which will come in handy for PvP and PvPvE game modes.
It's a shared world, so "every encounter matters". The propensity for trolling and doing piratey things is high. Looks like you can't trust anyone but your crew.
Also, I'm pretty sure I saw a Kraken at the end of that…right?
The Division 2
Division 2 looks like all the things we loved about the first but significantly dialed up.
The maps and textures are bigger and more detailed. More character specialization options (after the game is completed) including Sharp Shooter, Demolitionist, Survivalist. All with new mods, talents, tools and signature weapons will add needed depth to the game play. Which means, it sounds like you'll be rewarded handsomely for your grind. There was brief mention of the "Darkzone" returning, but in what form, we'll have to wait and see.
Biggest news is that it will now include raids, which they are calling "incursions". You can take a team of others who are willing to burn a few hours (they're LONG) for some primo loot.
Honorable Mentions
Transference
Psychological thriller is a collab with Elijah Wood's company SpectreVision. Merges video and video game styles together. So Lawnmower Man, Max Headroom and Johnny Mnemonic walk into a bar…you get Transference.
Rainbow 6
Recently hit 35 million players (wow!), the esports surrounding the game is being kicked off with a new documentary. There are also some content updates like new maps, operator tools and operator enhancements.
Here's the whole conference if you want to really indulge. 
The content is featured on https://www.directv.com/insider/ is editorial content brought to you by DIRECTV. While some of the programming discussed may now or in the future be available affiliates distribution services, the companies and persons discussed and depicted, and the authors and publishers of licensed content, are not necessarily associated with and do not necessarily endorse DIRECTV. When you click on ads on this site you may be taken to DIRECTV marketing pages that display advertising content. Content sponsored or co-created by programmers is identified as "Sponsored Content" or "Promoted Content."