Why do some cities get all the TV love? Location, location, location. Think of all the indelible marks a city can leave on a show. Sex And The City's Greenwich Village charm. Insecure's low-rise LA apartment buildings. The Florida noir of Claws. The entirety of the Dick Wolf Chicago-verse.
What would happen if two TV shows decided "this town is big enough for the both of us?" Of course, this already happens within shared universes, like the DC superhero shows on The CW. But we're thinking "Olivia Benson kicks down Carrie Bradshaw's door" crossovers. Crossovers that could (should?) have happened between totally unrelated shows set in the same city. Here are the off-the-wall regional crossovers we would have loved to see on television.
Boston Crossover: Cheers and Boston Legal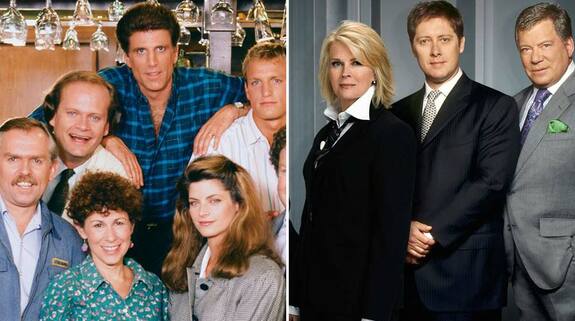 The bar where everybody knows your name definitely could have used Alan Shore (James Spader) and Denny Crane (William Shatner) stopping by for an after-dinner drink. It would be worth it alone just to see them interact with Carla Tortelli (Rhea Perlman), who definitely would not take any of their crap. It also feels like Rebecca Howe (Kirstie Alley) and Shirley Schmidt (Candice Bergen) would be fast friends.
Chicago Crossover: The Good Wife and Shameless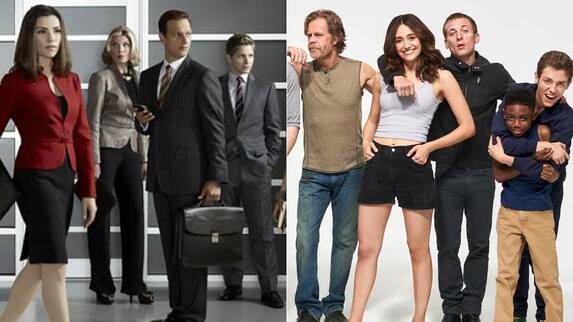 This one's easy — Alicia Florrick (Julianna Margulies) has a chance encounter with Fiona Gallagher (Emmy Rossum) and ends up hiring her as an executive assistant after they hit it off. But when her father Frank Gallagher (William H. Macy) shows up at the offices of Florrick, Agos, and Lockhart and makes a drunken pass at named partner Diane Lockhart (Christine Baranski), everything falls apart. Typical Frank.
Florida Crossover: Cougar Town and Dexter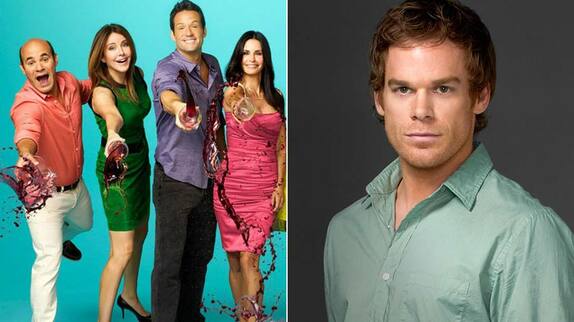 Can't you just picture serial killer Dexter Morgan (Michael C. Hall) trying to murder the Cul-de-sac Crew because they're kind of horrible people? But he keeps failing because they're so drunk all the time (what good is a paralytic when they're already passed out?) and is eventually sent on his way by Ellie Torres (Christa Miller) with a sassy talking-to that she usually reserves for her husband, Andy (Ian Gomez). It's comedy gold in the Sunshine State. And it probably doesn't result in Dexter moving away to become a lumberjack.
Los Angeles Crossover: Entourage and Southland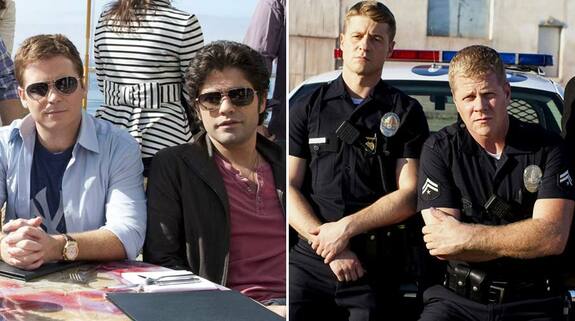 Is it too dark to imagine a world where Vincent Chase (Adrian Grenier) and Ari Gold (Jeremy Piven) are arrested by the Southland officers and end up in prison? (Answer: No). Or, on the lighter side, Vince lands a movie role as a cop, so he goes to the LAPD to secure a ride-along for research, and pairs up with none other than John Cooper (Michael Cudlitz) and Ben Sherman (Ben McKenzie)? And when brother Johnny "Drama" Chase (Kevin Dillon) decides to tag along, well, drama ensues.
Midwest Crossover: Parks and Recreation and The Middle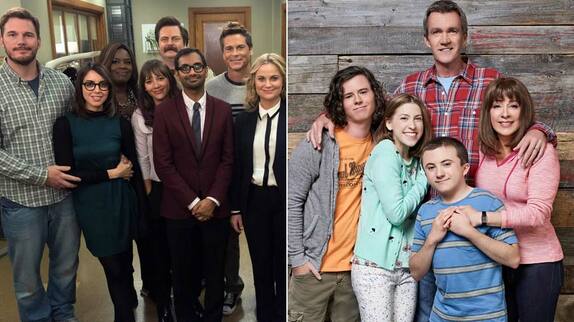 In terms of believability, this one might just be the best crossovers on the list. These two heartfelt shows set in Indiana would make a great pair, especially since Sue Heck (Eden Sher) is the perfect person to go shadow Leslie Knope (Amy Poehler) for a day at Pawnee City Hall. And you just know Ron Swanson (Nick Offerman) would find a kindred spirit in Mike Heck (Neil Flynn), whose sons Brick (Atticus Shaffer) and Axl (Charlie McDermott) would get into some serious shenanigans with Andy Dwyer (Chris Pratt). Meanwhile, Donna Meagle (Retta) and Tom Haverford (Aziz Ansari) would give Frankie Heck (Patricia Heaton) some lessons in how to "treat yo' self."
New York City Crossover: Friends and Sex & the City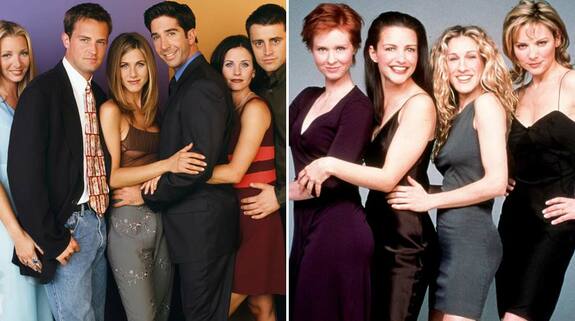 What do you get when you combine two of the most popular shows from the '90s-early '00s? "The One with the Shoe Closet." Picture this: a pre-Monica Chandler Bing (Matthew Perry) goes out on a date with Carrie Bradshaw (Sarah Jessica Parker). It does not go well. Chandler complains all about her to his friends, only to find Carrie has written a column complaining about him…to the entire city. When he goes to confront her, Samantha (Kim Cattrall) hooks up with Joey (Matt LeBlanc), because if any woman was made to fall for his whole "hey" thing, it's Ms. Jones.
New York City Crossover: White Collar and Gossip Girl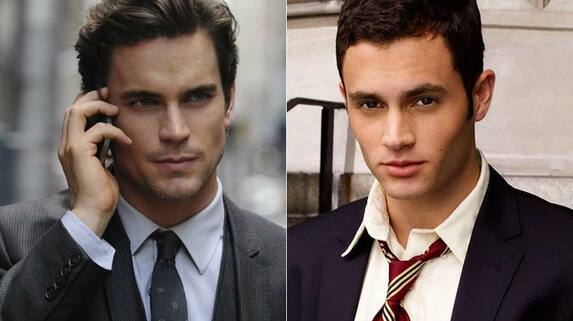 The city so nice, we did a crossover twice. It's home to so many great shows, we couldn't resist.
Can't you just see some bored Upper West Siders trying to pull off a heist of some kind only to be dogged by Special Agent Burke (Tim DeKay), who knows what they tried to do but can't prove it? Meanwhile, using that bit of chicanery as a misdirection, Neal Caffrey (Matt Bomer) and Gossip Girl himself Dan Humphrey (Penn Badgley) pull off the real heist.
Pacific Northwest Crossover: Twin Peaks (the original) and Grimm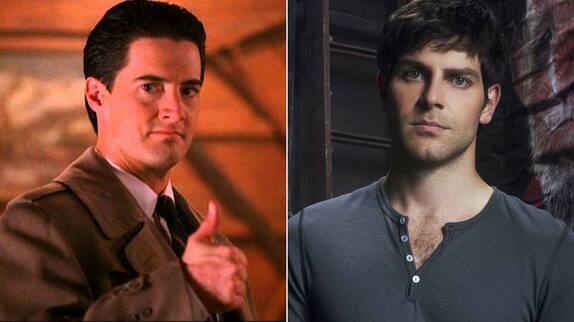 This one's about to get weird, as befits both of these shows. We like to imagine Agent Dale Cooper (Kyle MacLachlan) teaming up with Det. Nick Burkhardt (David Giuntoli) and Det. Hank Griffin (Russell Hornsby) to fight the forces of evil. The Black Lodge seems like the perfect place for a rogue Wesen demon to hide, and Dale, Nick, and Hank are just the guys to bring it back to our world and kill it. Plus, Juliette Silverton (Bitsie Tulloch) would also definitely be able to help Donna Hayward (Lara Flynn Boyle) and Audrey Horne (Sherilyn Fenn) investigate the murder of Laura Palmer (Sheryl Lee).
Rust Belt Crossover: Glee and Greek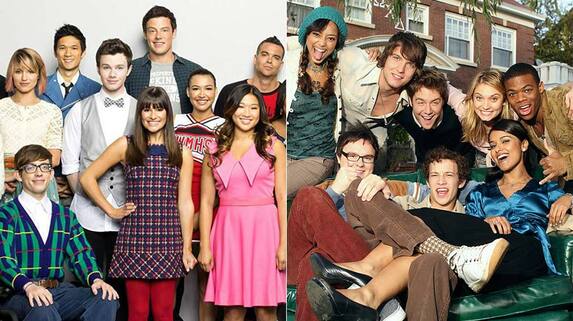 These two fun Ohio-based shows are simply begging for a crossover where the Cheerios – Quinn (Dianna Agron), Santana (Naya Rivera) and Brittany (Heather Morris) – crash a Zeta Beta Zeta sorority party and make friends with Casey Cartwright (Spencer Grammer) after he saves the high school girls from some rowdy frat boys. Calvin (Paul James) and Kurt (Chris Colfer) could offer each other support as they come out to their closest friends and family, while Rachel Berry (Lea Michele) would get a huge crush on Rusty Cartwright (Jacob Zachar). And obviously, there would be a huge musical number (maybe Asher Roth's "I Love College," the most 2009 song imaginable.)
---
What do you think, TV fans? Did we strike some television gold, or what? Be sure to revisit your favorite shows on DIRECTV and come up with your own dream crossovers.