The New York Giants win over the Chicago Bears was a tantalizing offensive affair, despite Eli Manning failing to eclipse 200 yards passing and Chase Daniel finishing with 285 yards that can best be described as modest. New York's most explosive passing play wasn't even executed by Manning. Instead, Giants head coach Pat Shurmur dialed up a trick play in the third quarter that resulted in Odell Beckham rolling out of the pocket to avoid pressure, before launching his second touchdown pass of the 2018 season.
As fun as that was to watch, Beckham's dime ball wasn't the can't miss play of the week. Heck, it wasn't even the top wide receiver-thrown TD toss of the game. The Bears were a bit more consistent in the air, and their short passing game approach compensated for their anemic rushing attack. Tarik Cohen was the beneficiary of that gameplan, as he led all receivers with 12 catches for 156 yards.

Only three of Cohen's 12 catches were checkdowns, and they gained only 18 yards. The bulk of Cohen's yards were earned catching the ball downfield. Yet, in the fourth quarter, on the final play of regulation, he delivered on the other end of the passer-receiver exchange on a play called Oompa Loompa.
Chase Daniel handed off to tight end Trey Burton, who then pivoted to his left towards Cohen, who was running parallel to the line of scrimmage. Burton pitched to Cohen as he sprinted to the right. Originally, it appeared Daniel would leak out as an eligible receiver, but that never materialized. Confounded by all the movement, the Giants left receiver Anthony Miller all alone in the end zone.
Rather than lob it and give the defense time to get to Miller, Cohen rolled right, found an opening and rifled a throw through the traffic. Passing on fourth down from the 1-yard-line is a bold proposition. Utilizing a gadget pass play on the final play of regulation, from the 1-yard-line, is downright daredevil-ish.
Cohen's pass may have looked simple, but it wasn't an easy throw. Alec Ogletree and Landon Collins had opportunities to knock it down but reacted a nanosecond too slowly.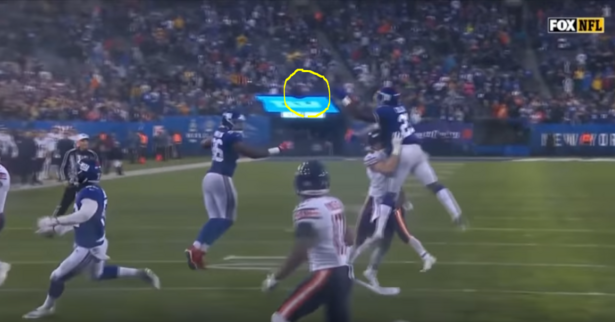 Had Nagy's play blown up in Chicago's face, he would have been pilloried for overthinking it. As we learned from the Indianapolis Colts in Week 12, not all trick passes are created equal, and the Super Bowl 49 stage taught us the dangers and rewards of non-QB's throwing the ball on pivotal plays. Instead, Nagy's playcalling ingenuity and moxie were the most crucial takeaways.
Beckham and Cohen's respective touchdown passes were reflective of their contrasting styles. Beckham, an ostentatious big-play receiver is a magnet for the deep ball. At 5'8″, Cohen is listed as a running back but is essentially a receiver in today's league, who thrives in tighter spaces. Chicago wound up losing in overtime, but there would've been no opportunity for victory if it weren't for Cohen's short-yardage heroics as time expired.
Catch every Sunday afternoon NFL game with NFL SUNDAY TICKET from DIRECTV.*
DIRECTV not available for you? Not a problem. Get NFLSUNDAYTICKET.TV.*
*Out-of-market games only. Select int'l games excluded.