Kareem Hunt's elusiveness was a bedrock of his pro potential, forcing more missed tackles as a college-level senior than all but one player. As a rookie, he slipped 10 more tackles than the second-closest running back. Part-matador, part-bull, he baits prospective tacklers into charging at air, then steamrolls the rest. Those skills combined, make him an elite escape artist.

On Sunday night, Hunt humiliated the Cincinnati Bengals defense on multiple occasions to the tune of 141 yards from scrimmage. The Chiefs wound up torching the Bengals 45-10, but one play stood out. During the opening drive, Hunt logged a run that will be at or near the top of his post-career highlight reel.
On Kansas City's 1st and 10 from the Patriots 27, Patrick Mahomes snapped it from shotgun with Hunt lined up to his left. Hunt took the handoff, sweeping to the right behind the zone blocking of his linemen, including the surprisingly nimble-footed left guard Cam Erving who pulled immediately after the snap and became Hunt's lead blocker.
The Bengals actually read the play perfectly as six defenders quickly converged onto Hunt, who foresaw the impending Acme fight cloud that awaited him.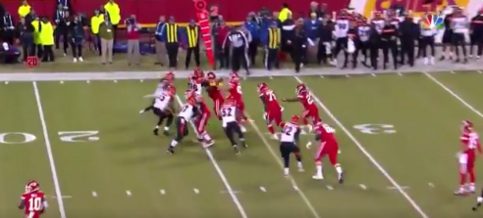 After an initial hesitation, Hunt dove into the scrum, seemingly determined to salvage the play with a short gain, collect himself and try again on second down.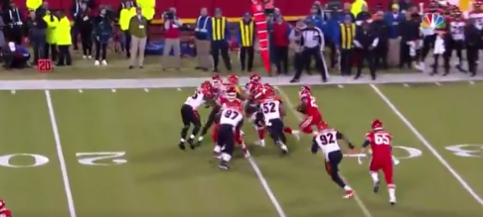 Hunt appeared to go down in a pile of Chiefs and Bengals bodies, but akin to a surfer disappearing into a plume of water and mist, Hunt somehow emerged from the wave of defenders preparing to crash over him. Instead, Hunt hesitated, shed one tackler, paused, scanned the field and bolted through a lane before the four defenders in pursuit could react.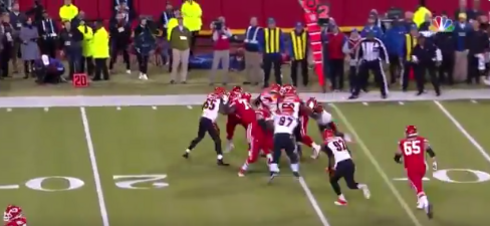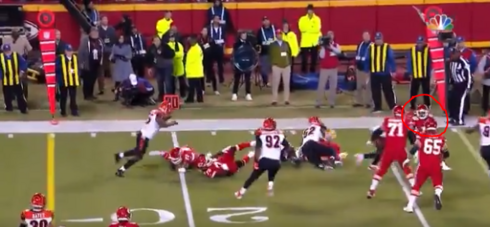 In case you missed what happened, unless you watched it ten times, here's another angle.
When the Bengals review that tackling in the film room, Marvin Lewis may invite a local varsity team to practice to give his defense a basic tackling tutorial. Bengals safety Jessie Bates positioned himself sentry to corral Hunt before he crossed the first down marker.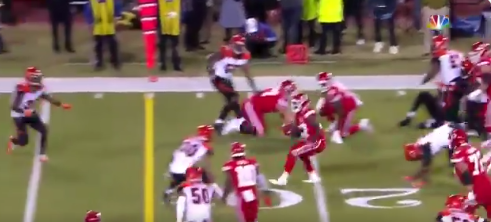 Hunt reached into his bag of tricks, selected the Edwin Moses option, pressed Y on his controller and hurdled Bates without breaking stride.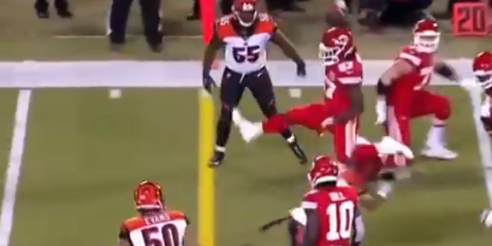 Hunt's leap was a déjà vu moment resembling his near hurdle of Patriots cornerback Jason McCourty on Sunday night during Week 6. That was merely a practice run. This time around, Hunt found enough air to clear his tackler and kept on galloping.
Dre Kirkpatrick eventually wrapped up Hunt at the Patriots 15-yard line. However, this was merely the beginning of the third phase of Hunt's run as the Chiefs running back continued driving forward. At the 10-yard-line, Hunt turned a second tackler into a ride–share passenger. A third latched on and Hunt kept the pile moving forward.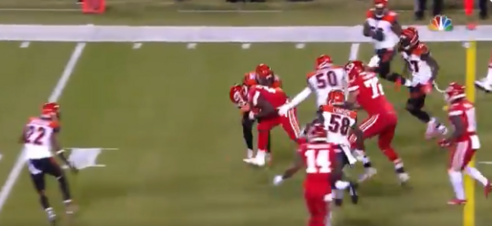 Hunt, and the mere mortals he was lugging around like carry-on luggage, finally went down at the 6-yard-line when linebacker Jordan Evans rammed into them from behind.
It took four Bengals to halt his momentum. At least until the next down when Patrick Mahomes connected with Hunt on a 6-yard touchdown.
Hunt's burst gained 21 yards, but it was an incredible display of total athleticism and the season's most improbable escape.

The 70 yards Mitch Trubisky covered on an 8-yard touchdown run earned "Play of the Week" points for the improvisation involved and the distance traveled during his scenic journey, but in comparison, it was a walk in the park. Hunt's rapid-fire decision-making and pyrotechnics in an enclosed space were unparalleled in Week 7.
And Kareem knows it…
Catch every Sunday afternoon NFL game with NFL SUNDAY TICKET from DIRECTV.*
DIRECTV not available for you? Not a problem. Get NFLSUNDAYTICKET.TV.*
*Out-of-market games only. Select int'l games excluded.