When Grand Theft Auto: Vice City was released in 2002, it became the fastest-selling game in history…within two days. Based on the sales numbers alone, it's safe to say a lot of millennials grew up on the game's pastel-tinted, neon-lit, synth-scored virtual streets. (And all around the Internet, thousands of wistful posts to the effect of "I missed so much school playing this game" provide anecdotal backup.)
About a decade after Vice City's heyday, a music micro-genre called vaporwave briefly captivated millennials, Gen-Z's, and a smattering of curious Olds. Did a GTA game, as some claim, "invent" vaporwave? And if so, does a possibly-spurious connection between two things add up to anything more meaningful? Let's review.
I'm old/young/not online. What's vaporwave?

Vaporwave is a movement based on a niche electronic music genre that bubbled up from the Internet in the 2010s. Strictly speaking, it's a subgenre of chillwave, which is a giant catalog of "chill beats to study and relax to." But vaporwave is more than a study aid. It has a mission. 
The first major vaporwave product was a digital album called Floral Shoppe, from musician Macintosh Plus. Floral Shoppe minted a number of the genre's style conventions, both visual and auditory: compressed samples reminiscent of corporate hold music, hypnotic tempos, and wistful synths…coupled with Totally 90's computer imagery, the color pink, the intact World Trade Center, Japanese characters, Greco-Roman busts, the human zoo from 2001: A Space Odyssey, and intentionally hideous graphic design.
A number of other electronic artists followed, chopping up sax and lounge jazz and corporate training video samples and setting them to slow, steady beats. A vaporwave "song" doesn't build to a conclusion or even a chorus—it pulses, cycling through sound fragments, insistent but not intrusive, practically begging to be played on an infinite loop. 
These sounds are paired with dreamy lo-fi graphics, tropical pastels, and unsettling photographs of abandoned malls and old Taco Bells. (In 2012, even Bob Dylan went a little vaporwave with his Tempest album art.) Many, or even most, of these artists released all their tracks for free on YouTube.
Why "vapor?"
The aesthetics of vaporwave are as important as the sound. Critique of consumer culture is an essential part of the equation, as is ironic-but-not-ironic nostalgia.
In their sandbox of relics from the 80s and 90s, these artists are playing with an old consumer culture that's already been replaced. Boxy suits, gradients, VHS tapes, user manuals, pastel squiggles, floppy discs, and indoor malls are obsolete. 
The synthesis of all those currents—call them vapors—is as ephemeral as the products. They're ironically repurposed, and briefly, un-ironically enjoyed again by their audience. Vaporwave creators "let flow the music that lubricates Capital, open the door to a monstrously alienating sublime, twist dystopia into utopia and vice versa," according to a rather poetic 2012 article. 
Sublime, huh? 
Yes, because when material changes from a solid to a vaporous state without ever becoming a liquid, it's called "sublimation." Kind of like how all those PC game boxes and Taco Bell booths turned into vaporwave.
Critic Genista Jurgens, writing about the trend's Teflon tenacity as of 2016, described it as "a satire of corporate and consumerist culture and modern capitalism, presented together with a slick, universally understood aesthetic." Remind you of anything? If you're a moderate-to-avid gamer, it might…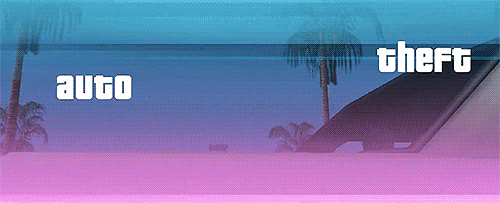 Bring me back to Grand Theft Auto: Vice City!
To make the most of their Miami-like Vice City map, Rockstar Games set their new project in the 1980s. (Scientifically speaking, Miami is the most 80s city.) Pastels and neon abound, as do palm trees, malls, corny yuppies, and 80s crimes like cocaine smuggling and international arms deals. And it's all drenched in Grand Theft Auto's signature cynicism and satire.
Series writer Dan Houser describes his game's point of view as "this prism of America as if viewed only through movies and advertising…it's this kind of look at America's media culture and criminality as being somehow intertwined."
Certainly, Miami-set crime media like Scarface, The Godfather: Part II, the works of Elmore Leonard, and (duh) Miami Vice are major influences on the game. But Grand Theft Auto's blend of sly humor and over-the-top satirical madness ("but it's satire, Mom!") probably helped a whole new generation learn to side-eye the American Way, or at least the part where we put malls everywhere and then abandoned them. In GTA, a significant chunk of the action takes place in a pastel-toned, eerily-lit indoor mall.
Aren't you forgetting something?
The music. Oh, the music. Grand Theft Auto, famous for loading eclectic and extremely cool playlists onto the in-game radio stations, went all-out for Vice City. The game features nine hours of 80s music, so you can evade police to the smooth grooves of Wang Chung. For a lot of players, unfamiliarity with these decades-old tracks gradually became genuine appreciation—even a kind of nostalgia for a time they'd never experienced.
Back to series scribe Dan Houser, on the resurgence of 80s pop and new wave among plugged-in millennials: "Does [the game] get credit for it? Well, the games are popular, so I think it gets some credit for it. You can look at some of the songs we've used in the games–you look at them on YouTube and realize people are going, 'I first heard this music in GTA!'"
In the end, Rockstar had millions of children and young adults listening to A Flock of Seagulls and Laura Branagan for hours on end while they knocked down GTA missions after school. Hours and hours. While seeing serene, pixellated cityscapes flow by in hues of pink and green, and hearing a bunch of satirical radio ads for obsolete 1980s consumer goods. 
By the time those kids hit college, some of them were destined to release vaporwave tracks on YouTube, netting millions of views and spawning a whole genre.
Plenty of fans have made the connection, and plenty of vaporwave creators pay direct homage to their favorite game. Here's a vapor-ized cover of the Vice City theme (which is already a pitch-perfect Miami Vice pastiche).
What else about Vice City is vaporwave?
In the 90s and early 2000s, video game graphics and gameplay were more evocative than realistic or immersive. The unnaturally smooth planes and uncanny character movements could be alienating. The very experience of playing classic 3D games was a little lonely. Jogging through blank tunnels as Lara Croft, murking carbon-copy Doom demons as the only living man on your base, solving fiendish puzzles in Myst's silent world, even exploring Vice City—practiced for hours on end in a virtual space, all these actions left an imprint on millennial gamers.
Vaporwave is, in part, a reaction to alienation, or an attempt to interpret loneliness. Most of its creators work solo and remotely, from bedrooms and basements all over the world. Its imagery is a collage of early computer graphics, deliberately dated or even ugly ephemera from the dial-up days. Its principles are post-postmodern, an attempt to un-ironically enjoy soothing jazz riffs or recapture childhoods spent in the crudely-rendered dreamscapes of early 3D games.
For the ultimate vaporwave experience, including dreamily-dated graphics and isolating, existential gameplay, revisit The Labyrinth of Time. It's slow, choppy, and takes place in a Babylonian neon mall outside the constructs of space and time. 
Labyrinth of Time's bewitching, bewildering quest through cyberspace was only a little more extreme than the typical mid-90s to mid-2000s game. was Of course, GTA: Vice City was a much more popular game, and its effect on the culture was that much more pronounced. 
So…
Is there a definite connection between the remixed 80s aesthetics of Vice City, the alienating environments of all 90s and 00s video games, the near-universal experience of playing those games, a generation's loneliness and detachment, and the digital music genre known as vaporwave? Probably. Maybe. Yes.  
Is there a path forward for vaporwave enthusiasts?
They can always get into the cool-toned, smoke-streaked nighttime neon 80s films of Michael Mann. Sure, the Miami Viceconnection is obvious, but Mann's vapor-est film is Manhunter, the most laid-back film ever made about a terrifying serial murderer. Race through urban landscapes of hard, blank walls and sterile blue lights. Thrill to Brian Cox's record-low 9 minutes of screen time as Hannibal Lecter. Trance out to eerie synths. Rarely have pastel pink and white been so terrifying together. If you never wanted to leave Vice City, there's something here for you.
Love Grand Theft Auto: Vice City? DIRECTV has all your entertainment needs on lock, from classic gaming content to 80s retrospectives to the most neon films ever made. 
The content is featured on https://www.directv.com/insider/ is editorial content brought to you by DIRECTV. While some of the programming discussed may now or in the future be available affiliates distribution services, the companies and persons discussed and depicted, and the authors and publishers of licensed content, are not necessarily associated with and do not necessarily endorse DIRECTV. When you click on ads on this site you may be taken to DIRECTV marketing pages that display advertising content. Content sponsored or co-created by programmers is identified as "Sponsored Content" or "Promoted Content."