Beginning July 25, hundreds of entertainment journalists are trapped inside gather in the Beverly Hilton Hotel for the semi-annual Television Critics Association press tour, where networks and streaming platforms take turns hosting days of panels and interviews for their new (and sometimes returning) projects. It runs all day, every day, for two weeks, and in between the hotel buffet food and frostbite-inducing air conditioning levels, one brave reporter is chronicling her time there. These are her dispatches from the 2018 TCA summer press tour.
This is my last TCA dispatch, even though press tour continues until Aug. 8. Luckily, I get to go out on a high note with FX day. Not only does FX produce some of the best television out there but its CEO, John Landgraf, always brings some delightfully wonky TV stats and commentary to the executive session — it's a real treat for TV nerds.
We're not at Peak TV yet
In 2015, Landgraf coined the term "peak TV" because he dropped the statistic on us that by the end of the year, there would probably be over 400 scripted shows to have been broadcast across all platforms. Needless to say, the room was fairly alarmed at that stat.
But he outdid himself today when he told us that his "early estimates that peak TV would have peaked [by now] were wrong," adding that we're still "a ways away" from peak TV actually peaking.
To support that claim, he informed us that as of today, 319 scripted shows have been released so far this year, up from 305 at the same time a year ago. Good lord, that is a lot of TV.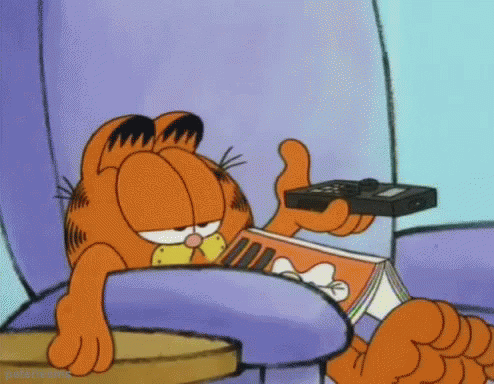 Kansas City, here I come
The fourth season of Fargo is officially a go, with creator Noah Hawley tapping comedian Chris Rock to anchor this iteration of the anthology drama. Landgraf says that Hawley has always wanted to work with Rock, so he had lunch with him to pitch the idea for the fourth season of the show and Rock signed on immediately.
The show will be set during the organized crime days of Kansas City, which is a real thing from the 1950s. Rock plays the head of one crime family, facing off with a rival Italian crime family. No other casting news has been released at this time, but Rock is enough to intrigue us.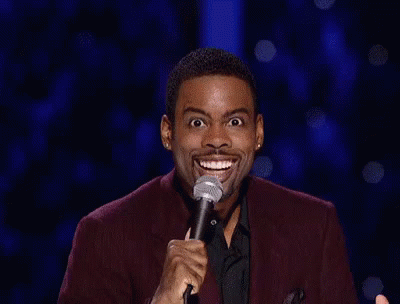 Advertisement
Who is going to emerge as the worst?
You're the Worst comes to a close this fall with its fifth and final season, which the cast tells us was very emotional. "We've cried a lot," says star Aya Cash.
Creator Stephen Falk cracks that he's mad at Breaking Bad for "sticking the landing" so well with its series finale, but he says that they think they've done a solid job with You're the Worst, teasing that the final season plays "with the idea of commitment and what that means."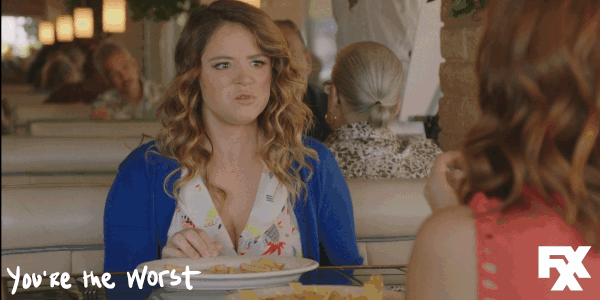 The cast also teases that the worst is yet to come, "something so heinous and deplorable" that Cash says she thought maybe they jumped the shark with this one — but no one is telling us what it is. Guess we'll just have to watch.
It's Always Sunny tugs at the heartstrings
The cast of It's Always Sunny in Philadelphia previewed an upcoming episode in which Mac (Rob McElhenney) comes out to his father via a gorgeously choreographed dance. It was an incredibly moving and unexpected moment from this raunchy comedy. In fact, Danny DeVito says the tears his character sheds while watching it in the episode were real — they used a take of him seeing the dance for the first time.
McElhenney also adds that the show really wanted to do more with Mac's sexuality after having him come out of the closet last season because of the overwhelming response they received from their LGBTQ fans. He says thousands of fans reached out to him on social media to say how wonderful it was to see themselves represented on the show.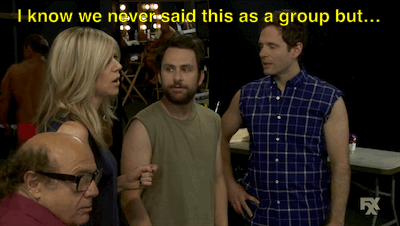 "I just didn't think we were that kind of show and it turns out we were for so many people," says McElhenney.
And for those of you who were worried about a lack of Dennis now that Glenn Howerton is on NBC sitcom A.P. Bio, don't worry — he's in almost all of the season 13 Sunny episodes.
All the AHS dirt
The women of the American Horror Story universe were on hand to tell us what they could about the upcoming eighth season of the show, subtitled "Apocalypse." Here are all the juicy details.
The biggest news is that for this "Murder House" x "Coven" crossover, Jessica Lange is returning for one episode as Constance Langdon. Bonus: Sarah Paulson is directing the episode.
According to executive producer Alexis Martin Woodall, "the story begins with the end of the world and then our world begins." This is in reference to what the "apocalypse" is. Take from that what you will.
Woodall also says that creator Ryan Murphy invited all of the Coven witches to return, but whether they return or not is TBD.
The character names we know so far are as follows: Leslie Grossman is Coco Saint Pierre Vanderbilt, Billie Lourd is Mallory, Adina Porter is Dinah Stevens, Emma Roberts is Madison Montgomery, Kathy Bates is Ms. Meade and Sarah Paulson is three characters: Venable, Cordelia and Billie Dean.
"Cordelia is the supreme for now … I don't know how long that's going to last," teases Paulson
Strike a Pose
The Pose writers room hasn't even started mapping out season two yet, but creator Ryan Murphy did drop a couple tidbits in the panel for the show — the first season ended in 1988, but the second season will take a one-year time jump. It will begin in 1989 and end in March of 1990, which is when Madonna released her ballroom scene smash hit "Vogue."
Keep checking back in with DIRECTV for breaking news and updates from #TCA18, including exclusive interviews with the stars of Sharp Objects, Mr. Mercedes, and more.