IT'S MARCH, BABY! That means it's time for pivotal late-season games and conference tournaments, all building towards the most exciting event in sports—NCAA March Madness.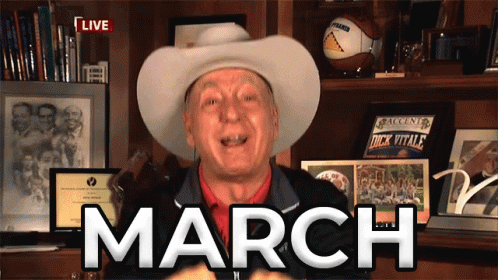 To prepare for tournament season, we're here to fill you in on everything you need to know in the run up to the Big Dance. From the big dogs staking out their positions to the underdogs scrapping for a spot, here's what's happening in college basketball.
AP Rankings – Top 25
As of 3/4…
1. Gonzaga (29-2, last week: No. 1)
The Zags sit tall at number one after spending the week feasting on cupcakes. They'll be the top seed at the West Coast Conference Tourney, with a bye until the semifinals on March 11th.
2. Virginia (26-2, last week: No. 2)
The Cavs holds steady after a win at Louisville. Guard De'Andre Hunter burnished his Wooden Award candidacy with 26 points in the victory.
3. North Carolina (24-5, last week: No. 5)
After escaping Clemson with a two point win, the Tar Heels stomped on Boston College, pushing UNC up two spots.
4. Duke (25-4, last week: No. 3)
Coach K's crew most recently pulled out a one-point victory over interstate rival Wake Forest on a last-minute shot from RJ Barrett. 
5. Tennessee (26-3, last week: No. 7)
The Volunteers followed up a dominating revenge win over Kentucky with a victory over Mississippi State.
6. Kentucky (24-5, last week: No. 4)
Tennessee's Jordan Bone dropped 27 points, dropping John Calipari's Wildcats two spots after a 19-point loss to their SEC rival. The Kentucky squad bounced back with a close win over Ole Miss.
7. Michigan (26-4, last week: No. 9)
The Wolverines jump two spots after a productive weekend against Maryland and Nebraska. Center Jon Teseke ran up 22 and 10 boards in the victory over the Cornhuskers.
8. Texas Tech (24-5, last week: No. 11)
After routing Texas this week, the Red Raiders stayed even with Kansas State atop the Big 12.
9. Michigan State (23-6, last week: No. 6)
The Spartans hang on to top-ten status, even after Indiana forward Juwan Morgan converted a last-second three pointer to hand Michigan State their sixth loss of the year.
10. LSU (24-5, last week: No. 13)
A mild upset against Tennessee ignited a four-game winning streak that has the Bayou Bengals peaking as they head into the SEC Tourney.
11. Purdue (22-7, last week: No. 14)
The Boilermakers are up three slots after a good weekend, but a loss to unranked Minnesota ruined the opportunity for an outright Big Ten regular season title.
12. Houston (27-2, last week: No. 8)
The Cougars fell four slots after a loss to unranked UCF, and their showdown with Cincinnati could send them tumbling further.
13. Kansas (22-7, last week: No. 15)
A loss to unranked Oklahoma spelled an end to the Jayhawks' incredible streak of 14 regular-season Big 12 championships. 
14. Florida State (23-6, last week: No. 18)
The Seminoles beat Va. Tech to secure a double-bye in the ACC Tourney, but a matchup with Wake Forest, hungry for victory after a tight loss to Duke, could spell trouble.
15. Virginia Tech (22-6, last week: No. 20)
A win over Duke sent Tech up five spots in the poll, but the subsequent loss to 14th-ranked Florida State brought the Hokies back down to Earth.
16. Marquette (22-6, last week: No. 20)
Marquette is backsliding into the Big East Tournament at 1-2 over their last three games.
17. Nevada (26-3, last week: No. 12)
The Wolfpack fell to Utah State in an emotional finish last weekend, but get a chance to seek revenge against conference rival San Diego State this Saturday.
18. Kansas State (22-7, last week: No. 16)
The Wildcats are tied for the lead in the Big 12, despite a recent loss to in-state rival Kansas. They look to seal the deal against Oklahoma this Saturday.
19. Buffalo (26-3, last week: No. 21)
Look out: the MACtion heroes haven't lost since February 1. With momentum on their side, they look poised to dominate the MAC Tournament and make some noise in the Big Dance.
20. Cincinnati (25-4, last week: No. 23)
One of this season's low-key success stories, the Bearcats have the chance to tie for the AAC conference lead if they can do away with Houston this Sunday.
21. Wisconsin (20-9, last week: No. 19)
The Badgers have kept up their stifling defense of late, holding all Iowa Hawkeyes to single digits in their win this week.
22. Wofford (26-4, last week: No. 24)
The Terriers will be the top seed in the SoCon Tournament, beginning this Saturday. Between Wofford and Furman, the conference could be looking at multiple NCAA bids for the first time ever.
23. Villanova (22-8, last week: NR)
The defending champs continue to recover after a .500 February with multiple losses to unranked teams. Final regular-season opponent Seton Hall just dealt 16th-ranked Marquette a loss and looks to play spoiler again.
24. Maryland (21-9, last week: no. 17)
The Terps enter their regular season finale against Minnesota looking to right the ship after a two-game losing streak. 
25. UCF (22-6, last week: NR)
After two Top-25 wins over Houston and Cincinnati this week, Central Florida hopes to do some damage in a loaded AAC Tournament in Memphis.
This Weekend's Top Games
Can't wait for the major conference tournaments to get your high-stakes hoops fix? Thankfully, there are some big games on this weekend, leading into conference tourney week…
DUKE VS NORTH CAROLINA, 3/9, 6 ET/9 PT, ESPN
College basketball's biggest rivalry resumes, with the fourth-ranked Blue Devils heading into the Dean Dome to try to even the season series with the second-ranked Tar Heels. Duke will be lacking the services of megastar Zion Williamson, but are still stacked with young talents like RJ Barrett and Cam Reddish. UNC, on the other hand, will look to the likes of senior guard Cameron Johnson to keep the young guns at bay in an attempt to sweep the regular-season series.
MICHIGAN VS. MICHIGAN STATE, 3/9, 8 ET/5PT, ESPN
These interstate rivals play their last regular-season game of the year as both teams are tied with Purdue for the top record in Big 10 conference play. That means the winner of this game is guaranteed at least a share of the Big Ten regular season title. Look out for the Wolverines' Lithuanian forward Ignas Brazdeikis, coming off a big game against Maryland that saw him interacting with the Terrapins' fans on the court (and on Twitter) after the game:
CINCINNATI VS. HOUSTON, 3/10, 12 ET, CBS
Cincinnati, after a whirlwind week that found them jumping three spots in the AP Poll after topping Memphis, will face their second ranked opponent this week after a narrow defeat at the hands of no. 25 UCF on Thursday. They'll seek revenge and a share of the regular-season title against twelfth-ranked Houston, who barely eked out a win against the Bearcats back in February.
Meanwhile, coach Kelvin Sampson has guided Houston to one of the biggest under-the-radar successes in college basketball. The Cougars look to build on last season's NCAA Tournament appearance and make a deep postseason run not seen since the program's Phi Slamma Jamma heyday.
Wooden Award Watch
Last year's SEC Player of the Year has been even better this year. Williams is a classic power forward, a crafty, strong low-post scorer and high-post creator who's a vital cog in Tennessee's offense. Whether banking one in off the glass or shuttling an odd-angle pass to twin tower teammate Kyle Alexander, Williams' hands and vision are, well, a vision. He's averaging 19 points on 59% shooting, 3.3 assists and 7.6 boards a game—all career highs—for the fifth-ranked Vols, and he does it all while looking velvety-smooth under the bright lights.
MIKE DAUM, FORWARD, SOUTH DAKOTA STATE
South Dakota State? Look, Mike Daum might not play for the big boys, but he sure can score with them. One of ten players in NCAA history to reach the 3,000 point milestone, he's scored 40 twice in one season. Daum has been the Summit League POY for the last two years, and there's no reason to believe he won't complete the trifecta in 2019. While his team's strength of schedule isn't spectacular, 27.6 points and 11.7 rebounds per game (both top-five in the nation) certainly are. Whether he rumbles through the lane or spots up behind the line (37% from three on 5.6 attempts a game this year), the senior forward's skill and experience are paying big dividends for the Jackrabbits.
The mid-major party continues with this high-flying guard who's broken into the national conversation on the strength of an NCAA-leading 10.3 assists per game, along with basically dunking on the entire Ohio Valley Conference. He's putting up historic numbers—he's likely to become the first Division I college basketball player ever to average 20 points and 10 assists for an entire season—and it's likely to translate to some postseason honors.
ZION WILLIAMSON, FORWARD, DUKE
---
Get your 2019 March Madness news, scores, schedule, bracket, highlights and more.
Join the conversation about your favorite movies, sports, music, games and TV shows here.