Singer-songwriter Julia Michaels may be best known for her hit single "Issues" and the slew of bangers she's written for stars like Justin Bieber, Selena Gomez and Fifth Harmony, but after her appearance on the Citi Concert Series on TODAY, she can add another title to her resume: The People's Pop Star.
The 24-year-old hitmaker mirrored the excitement of the crowd that packed the plaza at Rockefeller Center, some having camped out since 10 p.m. the night before.
Describing the performance as the first time she's played for a crowd of her own fans (she's previously opened for Shawn Mendes, Niall Horan, and Maroon 5), Michaels' smile beamed brighter than the stage lights.
Before her performance, an interview with TODAY's Hoda Kotb aired where Michaels discussed the struggles with anxiety and panic attacks that led to a breakdown following her performance at the Billboard Music Awards. Watching the pre-taped interview on a monitor from the stage, Michaels turned toward her band, fighting back tears.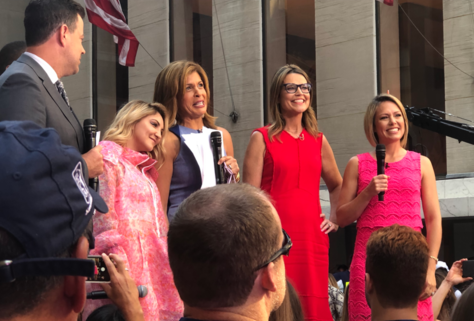 But as she tore into "I Miss You," Michaels' collaboration with electropop stalwarts Clean Bandit, any trace of nerves disappeared. Skipping down the runway from the stage, Michaels entered the crowd, high-fiving, hugging and waving to fans, some of whom brandished homemade We Love Julia Michaels signs on pink poster board.
After hours of anticipation, the crowd exploded into a chorus of whoops, hollers and, of course, singing every lyric. Even during an earlier soundcheck, the audience filled in for Michaels while the band prepared, creating a sort of mass, early-morning karaoke experience.

Advertisement
Between songs, fans showered Michaels with items to sign and gifts. One group of young fans from Birmingham, Alabama performed a choreographed dance routine to Michaels' single "Jump" for the singer before her set began.
Michaels ripped into "Jump," a lusty, mid-tempo bop, twirling in a sheer floral poncho as the crowd grooved to the beat. Michaels doesn't dazzle with choreography like J. Lo or belt like Mariah, but her performances resonate with audiences thanks to her raw emotion and vulnerability. Michaels' open-hearted approach imbues every performance with undeniable charm. It felt like Michaels connected with each audience member personally, even among the large crowd on the plaza.
Despite the rock star welcome, Michaels couldn't be further from a diva. After years of crafting masterful pop tunes for the likes of Britney Spears, Gwen Stefani and Ed Sheeran, she's been an established force in the music world for years. But it wasn't until she wrote her breakout single "Issues" that she decided to hit the studio herself. She said it was the first song that sounded so much like her, she couldn't imagine anyone else singing it.
The opening track from her Nervous System EP, "Issues" spins mental health and heartbreak into a glimmering pop gem. The song would go on to peak at No. 11 on the Billboard Hot 100 chart and earn Michaels a Grammy nomination for Song of the Year. (She also snagged a nomination for Best New Artist.)
It's only fitting she closed her performance on TODAY with the signature tune, though the audience certainly helped as they committed to singing along with the same passion and intensity as Michaels herself.
Their contribution to the performance and Michaels' success isn't lost on the pop star-on-the-rise. Before wrapping her performance she had one more message.
"I love you guys so much," she shouted to the crowd.
The feeling was clearly extremely mutual.

Advertisement