The best way to get rid of your "case of the Mondays" is with some upbeat tunes, and that's just what country duo Dan + Shay delivered yesterday morning at the Citi Concert Series on TODAY.
Fans were lined up and hoisting their homemade signs in anticipation of the show bright and early—and we mean early! By 5:30am the crowds, holding a variety of caffeinated beverages, were on their feet and ready to rock. By 6:30am, the crowds started filtering through security into their designated spots, and the anticipation was palpable. A sudden grumble of excitement built up out of nowhere, and I turned around to see why—Dan + Shay were offstage and ready for soundcheck.
One of the coolest things about watching Live TV unfold, is seeing all the work that happens before the show begins and the cameras are on. Case in point: soundcheck! Dan + Shay took the stage in outfits that looked a bit more appropriate for the early morning call time, complete with sunglasses to combat the early morning glare. They looked relaxed and happy as all get out to see so many of their fans eager to sing and dance along! Soundcheck ended with a wonderful moment for one of their youngest fans, as the duo dipped into the crowd to do a quick meet 'n greet with an 8 year-old mega fan.
By 8am, we were all ready for the main event, but Dan + Shay had one more surprise! Two of their biggest fans, a married couple from Wisconsin, were standing center stage and they were completely shocked when TODAY Show host Hoda Kotb called them out by name. To their utter surprise Dan + Shay had found out that they their single "Nothing Like You" was their wedding song, and they had somehow gotten their hands on a photo from their wedding, autographed it, AND framed it for the couple. As the duo presented the gift to the couple, the crowd cooed and cheered in celebration.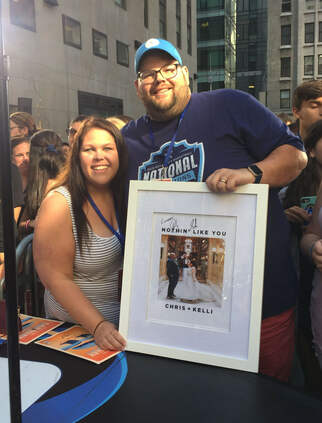 After the sentimental moment, it was time for them to start the show! Playing their hit singles "All to Myself," "Nothing Like You," and "Tequila," the duo bounced around the stage energetically, connecting with fans all around them. It's heartening to see successful musicians with such genuine love for their fans, and Dan + Shay were spreading all the love for both their fans in person and at home.
Check out a video of their TODAY performance of "All to Myself" below:
Check back this week as Panic! at the Disco hits the Citi Concert Series stage on Friday 6/29!

Advertisement