Beginning April 21st, select AT&T flagship stores in Chicago, Boston, and San Francisco are hosting (pun intended) Westworld experiences where fans of the HBO show can get a glimpse into the park. The experiences showcase authentic costumes and props, a life-sized robot host-in-the-making, and more. High-tech elements, including an immersive virtual reality experience, an interactive park map, and the iconic self-playing piano featuring music from the show, will give super-fans the in-world surprises they crave.

As I open the door to the AT&T store, I'm straddling two worlds. Behind me is Chicago's Michigan Avenue, bustling with shoppers and tourists on a sunny spring afternoon. In front of me is an in-store Westworld campaign, complete with music seemingly straight from the town of Sweetwater. It calls to mind images of William and Delores, white and black cowboy hats, gunfights and mayhem, and red sandstone rocks. In HBO parlance, I've just become a "guest" at a Westworld experience.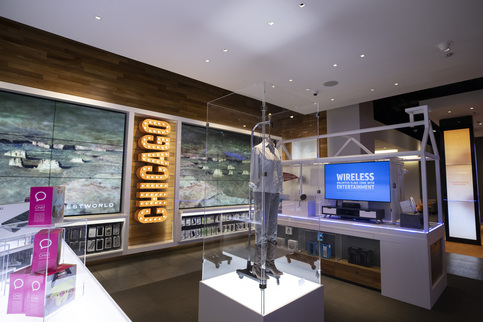 I've come here, in part, to inquire about a new charging cord for my phone. But I'm also eager for a dose of Westworld, because with the recent launch of season 2, I've got the fever and have already watched all the teaser videos available.
Upon hearing my enthusiasm for the series ("I know that music," I proclaim proudly), one of the greeters escorts me to a large screen and explains it will tell me which character I am. I take a quick personality quiz, responding to a number of prompts such as "I believe in the concept of destiny" (False), and "What percentage of your dreams would you characterize as nightmares?" (0 to 25 percent).
I'm The Sheriff. "You're only happy when things are in order and everyone is following the rules. You seek fairness first and foremost, and you love to set chaotic situations right." Sounds accurate to me. I then select a white card that I'll be able to scan and use at the experience's interactive machines.
After examining a table of cool-looking Western-style weapons, I scan my card at a large table to bring up a digital map of the Westworld park. It's like the table at Delos Inc., where staff members peer into the virtual world. I play around with the map (hint: there are several Easter eggs) and then move on to see more exhibits. One display case holds the ID card for Dr. Tom Ford and another reveals the gray pants, gray top, and brown cowboy boots that Delores wore in Season 1 (the costumes are the real deal, I'm told, and so are many of the artifacts).
I wander across the store, towards more familiar music, and sure enough a player piano is tinkling away in the back corner. This is the ultimate symbol for the series: an instrument that's programmed and can be changed as its overseer sees fit. When I scan my card and choose one of the songs from the soundtrack, I notice an eerie smattering of blood on the paper scroll. The whole thing feels so very, well, Westworld.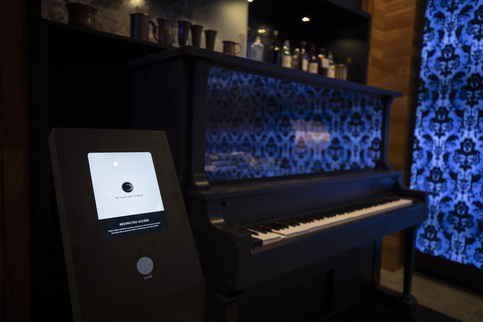 What really catches my attention next is a virtual reality booth. I duck in, and an AT&T team member helps me put on headgear. The world goes dark for a second, and I'm transported to — you guessed it — a world where I can live without limits. I'm in a stark white room, and a man is standing in front of me, encouraging me to select my weapon. Sheepishly, I take a revolver. Then, in the blink of an eye, the setting changes and I'm standing in downtown Sweetwater, talking with a sheriff and learning how to shoot the gun I selected. My aim's not great (I manage to hit a bottle after about four tries), but hey, I'm new here. And I can do what I please, right?

After playing around with the VR tech for a few more minutes, I step out of the booth, return my white badge, and step back out into modern-day Chicago. It's only when I'm halfway home that I remember the charging cord I was supposed to get. Guess I'll just have to visit the store again…
Be a guest at the Westworld experience at the Chicago AT&T store, 600 N. Michigan Ave., through July 1.
Check out the experience at our Boston and San Francisco stores too!