Westworld season two is rapidly closing in on its dramatic finale, but fans don't need to stop obsessing over their favorite show when it wraps this season on June 24. In partnership with AT&T, HBO has been releasing some gorgeous character posters for the sci-fi adventure drama throughout the season. Today we take a look at Teddy's (James Marsden) poster.
Designed by Turkish illustrator and graphic artist Berkay Dağlar, the poster for the stalwart gunslinger is looking quite prescient now that we're almost done with season two. The main image of Teddy shows his original persona, the chivalrous man who merely wants to settle down with his lady love, Dolores (Evan Rachel Wood), who is also pictured in one of the tableaus.
But a smaller version of Teddy shows he's no stranger to getting violent; he's depicted helping the Man in Black get to Escalante in an effort to rescue Dolores. With his sweetheart's life on the line, Teddy did not hesitate to lay waste to an army of soldiers with a Gatling gun. And his quote reads, "You look upon the face of true evil, you ain't liable to forget."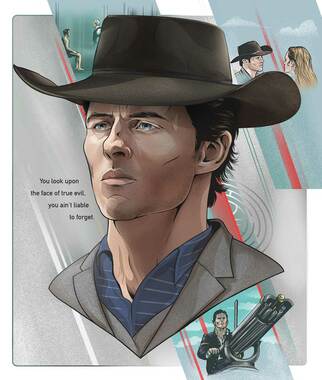 The sketch of him with the gun and that quote are particularly interesting in light of what Teddy became in the second half of season two (spoiler alert!). After watching him struggle with her violent uprising, Dolores had a technician lower Teddy's compassion and increase his intellect and brutality. Now she's basically created a monster, a killing machine whose focus is singularly concentrated on killing humans and taking over the park.
That's what Dolores wanted, but whereas her humanity remains intact (and we get glimpses of it here and there), Teddy's humanity seems like it's gone entirely — and it may never come back.
To pick up Teddy's poster while supplies last, find your local AT&T retail location — and check out Dağlar's full Westworld display on Behance to see the other posters.
Westworld airs Sundays at 9 p.m. ET/PT on HBO. Get caught up or revisit your favorite episodes on DIRECTV.