Most of us will never get to experience a day in the life of Bruce Wayne, billionaire playboy and masked vigilante. However, Batman fans in the New York City area now have the chance to experience a bit of that Bruce Wayne lifestyle with an up-close look at his automobiles from the upcoming Justice League film.
Through Sunday Oct. 8, you can see the newest iteration of the Batmobile as well as Bruce's super slick Mercedes-Benz AMG Gran Turismo. Head over to New York City's Times Square at 43rd St. and Broadway to snap a pic of the vehicles and learn more about what makes them so special.
AT&T got this intrepid reporter to the front of the action to see both vehicles firsthand—and the rush of seeing the honest-to-goodness Batmobile in person is surreal. This Batmobile is particularly intimidating, appearing more like a tank than a car. If the mere sight of it doesn't convince ne'er-do-wells to reconsider their lives of crime, the Batmobile's heavy artillery certainly will.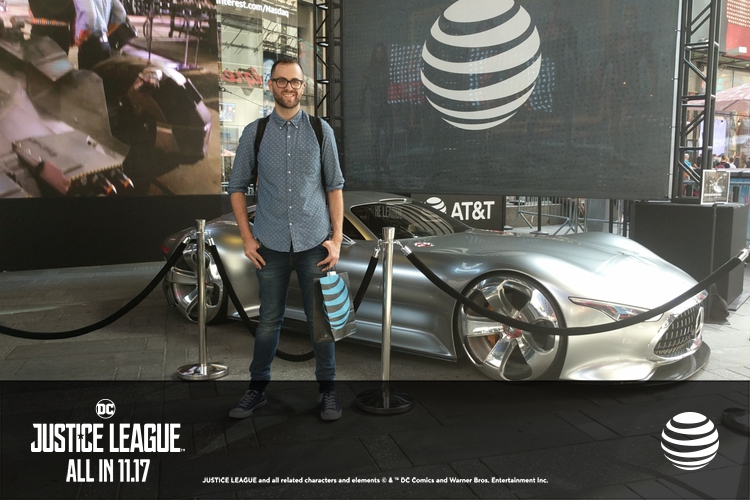 The author in his official event photo
Facing Batman's most powerful threats, Wayne Industries (and Warner Bros.) has gone all out to make this the most powerful Batmobile yet. Not only is the 8,500-pound vehicle heavily armored, but it also has stealth abilities and boasts weaponry including a twin .50 caliber retractable machine gun turret, a front tow missile launcher, a Howitzer cannon and rear rocket launchers. Despite all the armor and weapons, the Batmobile can still hit speeds up to 205 mph. 
Witnessing the Batmobile in person is enough to make anyone say, "Thank you, Alfred," but the truth is Bruce Wayne's luxury sports car is equally cool. Originally created as a super sports car concept for the PlayStation racing game Gran Turismo, the creators actually had to adjust the proportions to accommodate Batman actor Ben Affleck's 6 foot 4-inch frame. As if the sleek frame isn't striking enough, the gullwing doors and LED grille give it a kind of high-tech, futuristic presence on screen.
While you wait to get your photo taken alongside each vehicle, check out the Justice League trailer playing on the big screen nearby, as well as short vignettes that dive into the design of the Batmobile and how the Mercedes-Benz AMG Gran Turismo ended up in Bruce Wayne's garage.
The cars are just a short walk away from the AT&T store at 3 Times Square where Justice League fans can see actual costumes and props from the films, pose with lifelike Justice League statues, and check out video footage from the film.
Explore DC Universe content available to buy, stream, or rent.
The content is featured on https://www.directv.com/insider/ is editorial content brought to you by DIRECTV. While some of the programming discussed may now or in the future be available affiliates distribution services, the companies and persons discussed and depicted, and the authors and publishers of licensed content, are not necessarily associated with and do not necessarily endorse DIRECTV. When you click on ads on this site you may be taken to DIRECTV marketing pages that display advertising content. Content sponsored or co-created by programmers is identified as "Sponsored Content" or "Promoted Content."