Customers can Enjoy a Variety of Unique In-Store Experiences Inspired by "Fantastic Beasts: The Crimes of Grindelwald"
Wizarding World fans won't have to wait until Nov. 16 to celebrate the upcoming Fantastic Beasts: The Crimes of Grindelwald. They can stop by participating stores to discover more magic with AT&T through a variety of experiential activities:
Pose for a 1920s Paris-inspired photo op, complete with "cobble stone streets" and art nouveau park benches
Get a Fantastic Beats: The Crimes of Grindelwald Passport with their photo to begin their magical, in-store journey
Use their phone as a wand to activate experiences throughout the store using motion and light-sensing technologies
Interact with Newt's case with a special spell-activated surprise
View costumes designed by award-winning costume designer Colleen Atwood, and see props featured in the film
….and so much more!
Starting Nov. 2 fans can stop by to pick up exclusive posters featuring characters from Fantastic Beasts: The Crimes of Grindelwald (while supplies last):
Featured Posters:
Nov. 2 – 8: Albus Dumbledore (Jude Law) and Newt Scamander (Eddie Redmayne)
Nov. 9 – 15: Leta Lestrange (Zoë Kravitz) and Tina Goldstein (Katherine Waterston)
Nov. 16 – 22: Gellert Grindelwald (Johnny Depp) and Credence (Ezra Miller)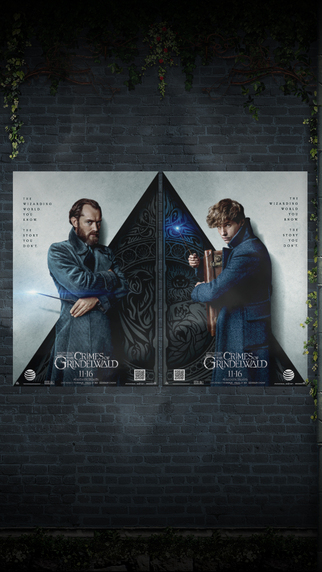 Earlier this month, AT&T, together with Warner Bros., launched the first joint, large-scale marketing campaign since the merger was approved in June. The campaign celebrates Warner Bros. Pictures' Fantastic Beasts: The Crimes of Grindelwald, only in theaters Nov. 16.
Now through the holiday season, new and existing AT&T customers will discover more magic throughout AT&T's online and retail destinations as well as DIRECTV, AT&T THANKS and more.
About Fantastic Beasts: The Crimes of Grindelwald:
Fantastic Beasts: The Crimes of Grindelwald reunited director David Yates, screenwriter/producer J.K. Rowling, and producers David Heyman, Steve Kloves and Lionel Wigram, all of whom had collaborated on Fantastic Beasts and Where to Find Them. Tim Lewis, Neil Blair, Rick Senat and Danny Cohen served as executive producers.
The film features an ensemble cast led by Eddie Redmayne, Katherine Waterston, Dan Fogler, Alison Sudol, Ezra Miller, Zoë Kravitz, Callum Turner, Claudia Kim, William Nadylam, Kevin Guthrie, Poppy Corby-Tuech, Brontis Jodorowsky, with Jude Law and Johnny Depp.
Warner Bros. Pictures presents a Heyday Films Production, a David Yates film, "Fantastic Beasts: The Crimes of Grindelwald." The film will be distributed worldwide in 2D and 3D in select theaters and IMAX by Warner Bros. Pictures. It has been rated PG-13 for some sequences of fantasy action. fantasticbeasts.com