The US Women's National Team are the defending World Cup champions. They've got a lineup that could compete against an all-star team made up of the best international players in the 2019 Women's World Cup field. They've won this tournament more times (three) than any other team. Who can possibly stand in their way?
Well, six other teams. In addition to the perennial contenders, some upstarts are looking to make some noise—and in any international tournament, never count out the hosts, especially when they're looking to match their country's men's team as the most recent World Cup champions. Here's a look at Team USA, and the teams looking to crash their repeat party.
The Favorite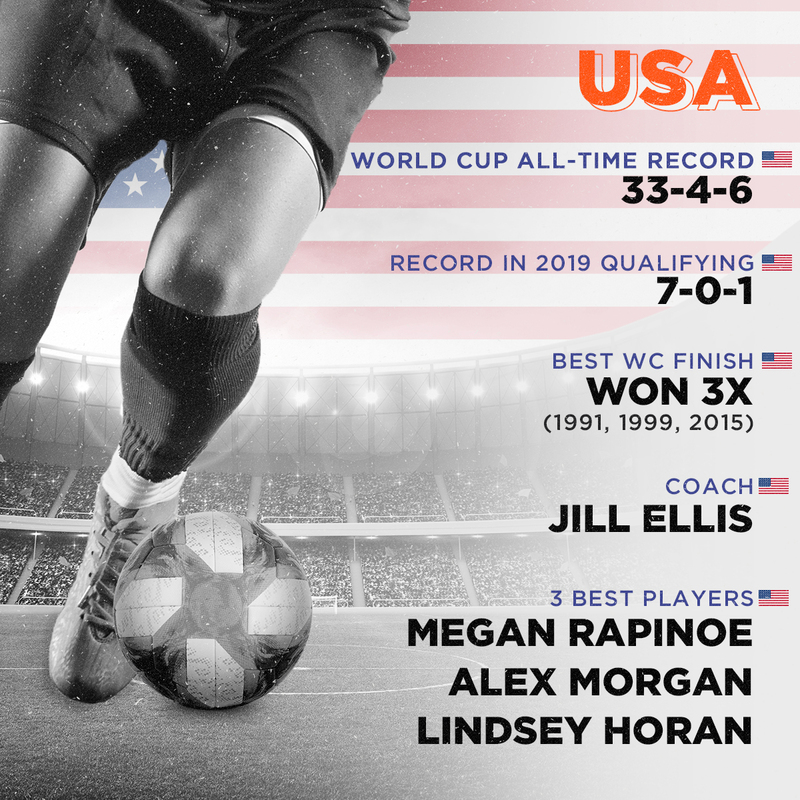 USA
The USWNT are the overwhelming favorites in France for good reason. The most decorated nation in the history of women's soccer comes to yet another international competition with the biggest names and best talent in the competition.
And yet, they're also coming off of perhaps the most disappointing performance in team history.
The last major tournament the USWNT entered, the 2016 Olympics, ended with a stunning quarterfinal defeat. The key players from the squad that fell short in Brazil are virtually all back, albeit with slightly changed roles and responsibilities.
What hasn't changed is the overwhelming advantage the USWNT has in the attacking third. Megan Rapinoe, Alex Morgan, Tobin Heath, and Carli Lloyd are all household names, but the young guns like Lindsey Horan, Samantha Mewis, and Mallory Pugh could all play on just about any starting eleven in the world. Jill Ellis has more players than spots on the pitch—and that's where the team could struggle.
Ellis needs to find a way to plug in the right combinations and set the team up to cover for a somewhat thin back line. There won't be much to sweat in the group stage. But teams with attacking prowess (say, Germany or the Netherlands), who can take the game to the Americans, will find a defense that occasionally loses its shape and can be exposed on the counter.
Of course, odds are the USWNT will win any shootout they find themselves in. Such are the blessings of having the best roster at the tournament. But that's why they play the games, folks.
The Frontrunners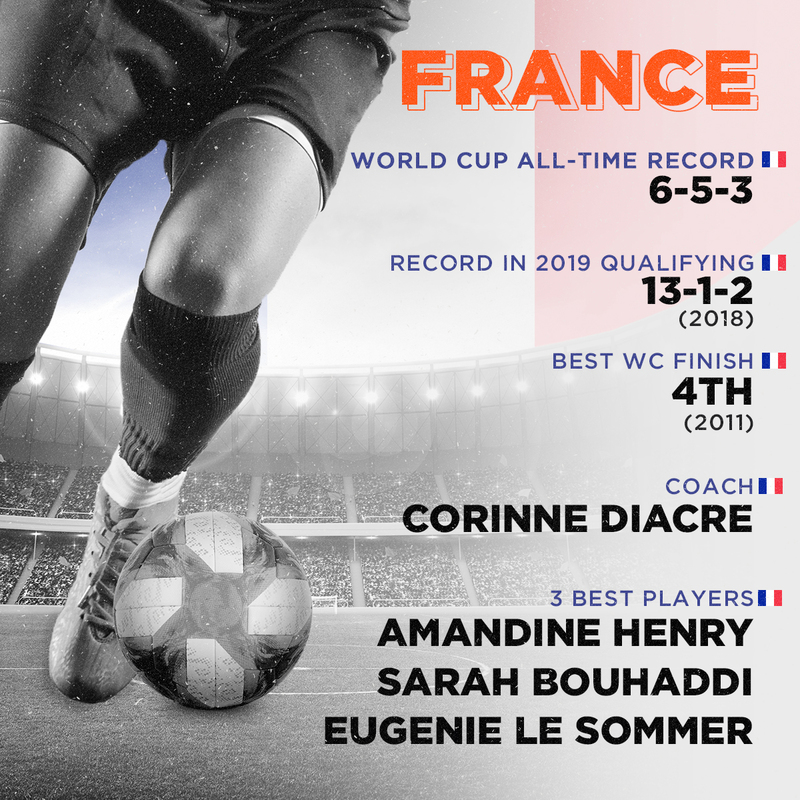 France
Playing on home soil is a blessing and a curse. France certainly wouldn't be the first team to use the home crowds to kickstart a big campaign. Look no further than the last men's World Cup, where Russia shockingly strung together a run to the quarters.
Of course, it's an altogether different exercise to host a tournament as a favorite. How France copes with the eyes of the nation being squarely upon them may matter just as much as the players that step on the pitch. The good news is that the team itself is a complete one, and one that has shown in recent results can hang with, and beat, anyone in the world.
The backbone of the team comes from Olympique Lyon, winners of the last four UEFA Women's Champions League titles, and maybe the best club soccer team on the planet. Wendie Renard and Griedge Mbock Bathy partner at centre back in front of Sarah Bouhaddi in net, combining for a fearsome defensive unit. The maestro in the middle, Amandine Henry, dictates the game as a deep-lying playmaker. She's surrounded by a wealth of devastating attacking players who can be rotated in and out depending on matchups. Eugenie Le Sommer is the number 9 and an accomplished goal scorer. Le Sommer can go to the wing to be paired with Delphine Cascarino to open up spots for Valerie Gauvin, Kadi Diane, and Gaëtane Thiney.
Corinne Diacre has options and a presumed quarterfinal matchup with the United States. France may be the toughest test the USWNT will face.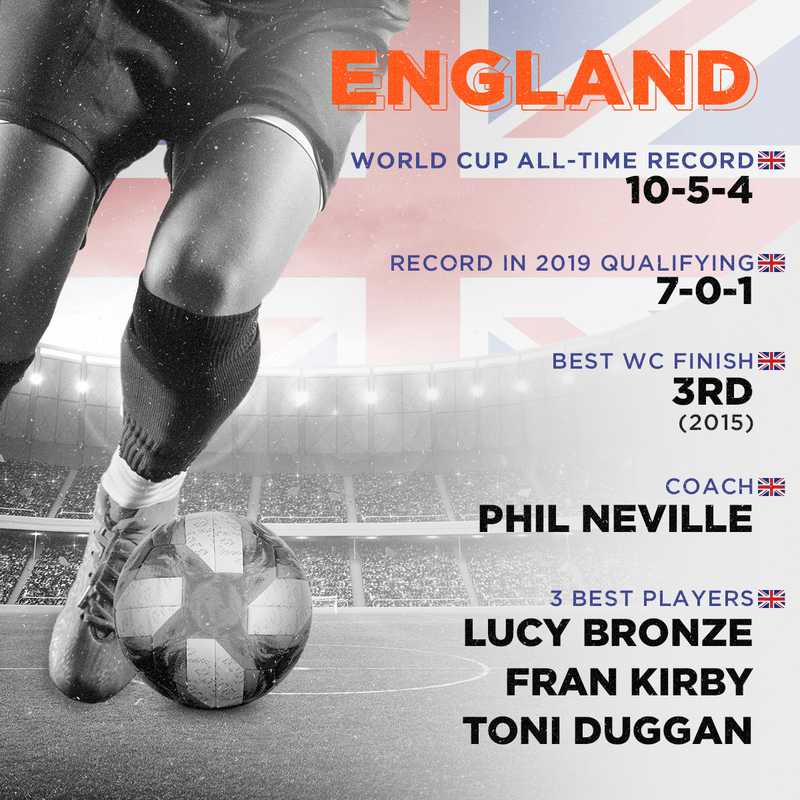 England
It wasn't all that long ago that England women's soccer—sorry, football—was altogether forgettable. But it certainly doesn't feel like it now. The Lionesses are stacked with attacking talent and have enough at the back to make things tough on their opponents. Having Phil Neville as a coach can only help create a steely defensive mindset.
Recent performances, though, have been enough to raise some red flags. Dropping matches at home to Canada and New Zealand doesn't exactly inject the squad with confidence. But look just a little further back and there are wins against Brazil and Japan, plus a well-earned draw against the United States.
The task for Neville will be to find a lineup that matches the talent at his disposal with some production. Jordan Nobbs will not be ready to go, which means Fran Kirby will need to be better than her best (which is already pretty great). It also means Neville will have to choose who of Toni Duggan, Nikita Parris, Beth Mead, Ellen White, and Jodie Taylor will play, and in what formation they'll line up.
Those are a lot of questions, but talent is the best answer. Kirby is a wonderful playmaker who plays a classic number ten role. Lucy Bronze is maybe the best wingback on the planet and provides an extra attacking outlet from the back.
If England can play up to their talent level, they'll be one of the final four teams left in the competition.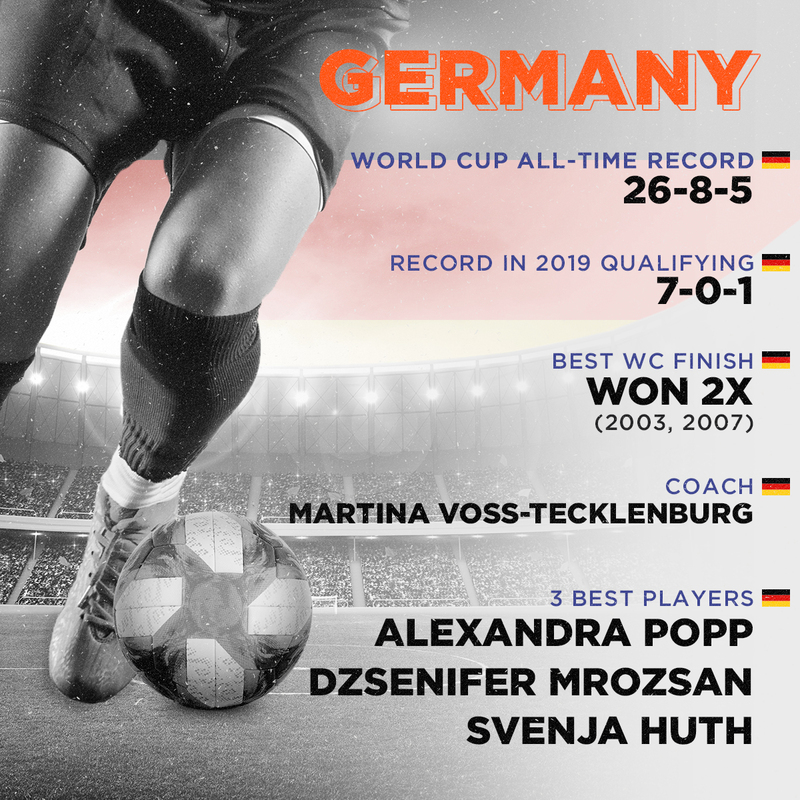 Germany
It may not meaningfully affect the product on the pitch, but if promotional videos were worth goals, Germany would enter every game with a 3-0 advantage.
A team as talented as Germany doesn't need a chip on their shoulder, but a Germany with a little extra nitrous under the hood? Get outta the way.
It starts in the final third for Germany. Alexandra Popp has been scoring goals for the national team for a decade now, and she shows no signs of slowing. Having maybe the best attacking player in the world in Dzsenifer Marozsán probably doesn't hurt. Throw in Svenja Huth and Lea Schuller, and you've got a dynamic force that can attack in waves.
There will be roadblocks for Germany. Manager Martina Voss-Tecklenburg has only been at the wheel for four games. Their first choice goalkeeper, Almuth Schult, may not be physically ready to go, and there isn't a lot of depth behind her.
Still, this is a team that hasn't lost a match since March of 2018. The positive results are aplenty and the team is trending in the right direction. Their group stage shouldn't test them, meaning they should be fresh and ready for the challenge of the knockout stage.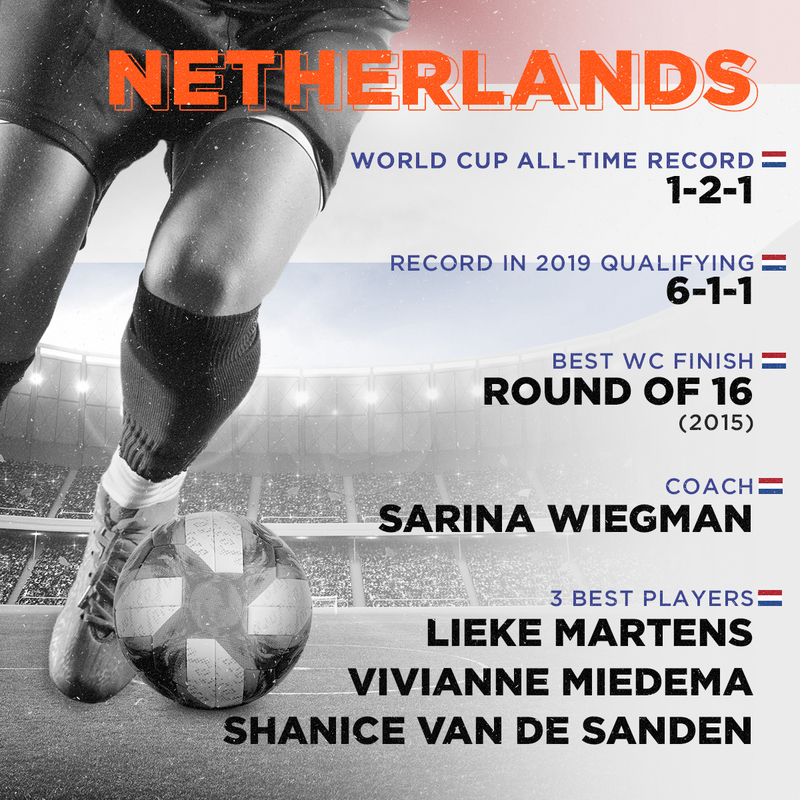 Netherlands
A team that has won a grand total of one match in its World Cup history shouldn't appear to be a favorite. But one of the youngest teams in the competition may just be one of the best. The Dutch have attacking power and aren't afraid to go and hunt goals. They did just that, scoring nine goals in three knockout round games en route to claiming the European Championship in 2017.
Lieke Martens, Vivianne Miedema, and Shanice van de Sanden are a terrifying top three, playing with all kinds of pace and intent. In their three pre-World Cup friendlies against Mexico, Chile, and Australia, all the Netherlands have done is score 12 goals, including 3 from Miedema, 2 from Martens, and 2 for van de Sanden.
Knockout stage soccer doesn't tend to encourage swashbuckling, offense-first kind of play, but the Netherlands will do their very best to break that trend. Their final group stage game against Canada will be a great test of whether or not the Dutch are ready to take their continental success to the global stage. A disappointing 2015 World Cup is still ringing in their ears.
The Sleepers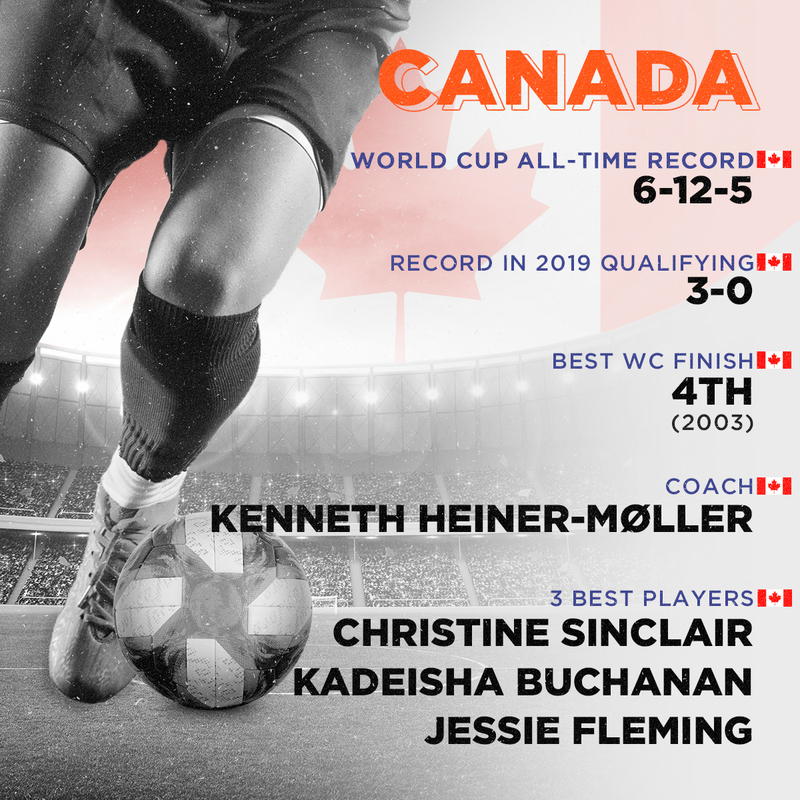 Canada
At the last World Cup, Canada came in with higher expectations as the hosts. This year, they're flying below the radar. And that makes them dangerous.
Christine Sinclair is still here, and is still scoring goals. So many goals. If she can net three more at the World Cup, she'll set the record for the most goals ever scored in international competition. Sinclair may be getting a bit long in the tooth at 35, but she still has plenty of gas in the tank for one more big run.
Surrounding her are a bunch of talented youngsters. Kadeisha Buchanan is a rock at the back at just 23. Buchanan, of course, was named the best young player at the 2015 World Cup. Her defense is a big part of the reason Canada has given up just one goal in 9 matches this year.
Jessie Fleming is the midfielder directing the symphony. Still in school at UCLA, Fleming already has 60 caps to her name.
Adding to the reasons to believe is a relatively soft draw for the Canadians. Their group isn't as scary as some of the tougher ones, and if Canada tops their group, they can make their way to the semifinals without having to play England, France, Germany, or the United States. Handling business against Cameroon and a pesky New Zealand team would be a great start.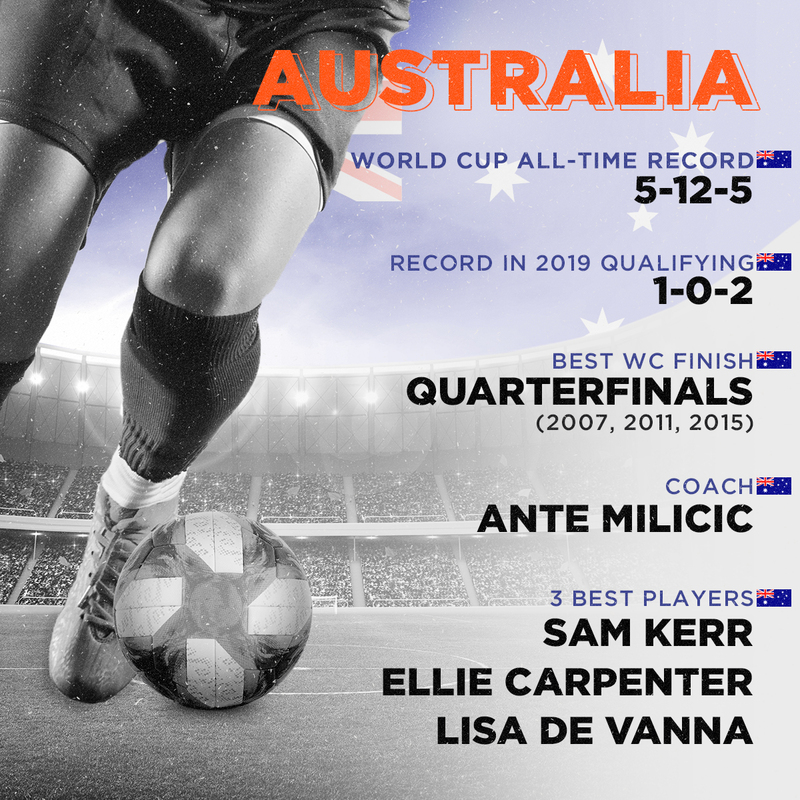 Australia
Is now the time for Sam Kerr? The Matildas' forward is one of the best players in the game today. And yet, for all of the accolades and trophies she's acquired, a World Cup goal has eluded her.
That should change, and fast.
Australia isn't shy about using their glut of goal scorers to their advantage. Their 4-2-4/3-3-4 hybrid formation they pulled out against the United States helped unravel a usually composed defensive unit. The Aussies still lost, but turning a game against the world's best into a 5-3 romp (which was 4-3 until the 95th minute) proved that Australia can impose their style of play on anyone.
Ellie Carpenter is due to pick up some praise at this World Cup. She's tasked to do a little bit of everything, beginning with her defensive responsibilities as a right back, but including adding a bit more teeth to the attack going forward. Her work rate allows Australia to push numbers ahead in attack.
The simple explanation for why Australia can claim some scalps is that they'll have the best player on the field in just about every game they have. This is Sam Kerr's team through and through, and Australia will go precisely as far as she will carry them.
---
Catch all the action and more from FIFA Women's World Cup France 2019™.