The US Women's National Team has been the most successful squad in Women's World Cup history, delivering some of the tournament's most memorable moments and making household names of its stars. Some of those household names are on this year's team, but there's plenty of room for the next marquee player(s) to break out in 2019. Whoever emerges from the tournament as a standard-bearer for women's soccer in America, it's likely to be one of these 13 players:
Forwards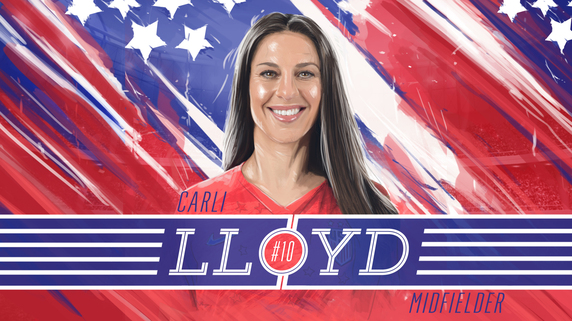 Carli Lloyd
The signature soccer star of her generation, the 36 year-old Lloyd enters the 2019 World Cup looking to put a capstone on a career that few in any sport can match. Lloyd has appeared in 274 matches for the U.S. national team, scoring 110 goals, but that understates her level of contribution to the team.
A deadly scoring midfielder, Lloyd has several iconic moments all on her own. She managed a game-winning goal against Japan in the 2008 Olympics group stage, and more famously, the winning goal in the gold medal game, a 1-0 win over Brazil. She scored both goals in the 2012 Olympics gold medal game as well, a 2-1 win over Japan. And she managed to top even that in the 2015 World Cup final, scoring a hat trick in the first half, the third coming on a shot from midfield, to give the U.S. its first World Cup trophy since 1999.
Lloyd, who plays professionally for Sky Blue FC of the NWSL, will likely come off the bench during the 2019 tournament, but with her track record, it will be a surprise if she doesn't find a way to make a meaningful contribution when it matters most. She's deservedly one of Team USA's three co-captains.

Tobin Heath
Few players have more tricks in their arsenal than Tobin Heath, 31, an attacking forward with the ability to create a chance out of virtually nothing. Heath, who plays club soccer for the Portland Thorns of the NWSL, has made 150 appearances for the U.S. national team, scoring 30 goals.
Heath began playing soccer at age 4, and committed to the storied North Carolina program, where she won national titles in 2006, 2008 and 2009. She was the first 2010 draft pick in the now-defunct WPS, and signed with Portland after a brief interlude with Paris Saint-Germain. She's been an integral part of the national teams that won Olympic gold in both 2008 and 2012, and scored in the World Cup final in 2015. Heath's 2018 didn't begin internationally until June, due to ankle surgery, but she still managed to score seven goals and add six assists in the calendar year.
The versatility of Heath cannot be overstated: she can attack, wreak havoc in midfield, and manager Jill Ellis is even comfortable using her at left back. Wherever she is on the field, her fancy footwork is a problem for opponents.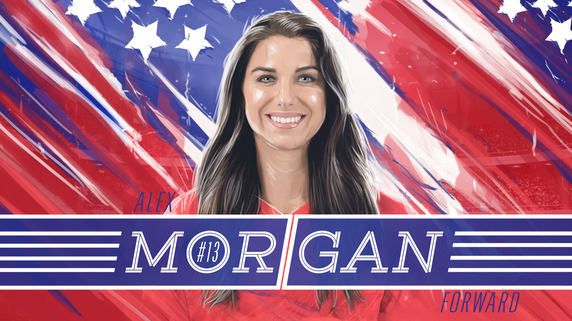 Alex Morgan
Reigning U.S. Soccer Player of the Year Alex Morgan is the most dangerous attacking forward in the world right now, in peak form, and ready to finally enjoy the World Cup at full strength. It's a scary prospect for opponents, considering that she's already managed 101 goals in 163 international appearances for the United States. But the team co-captain, who was the youngest member of the 2011 U.S. team and battled a knee injury throughout the 2015 march to a title, still has the chance to prove herself on soccer's biggest stage, just as she turns 30 on July 2, days before the final.
Morgan's led a gilded soccer life—starring in college at Cal-Berkeley, the number one overall pick in the 2011 WPS Draft, then leading the team that picked her, the Western New York Flash, to a league championship in her rookie season. She scored the game-winning goal in the Olympic semifinals against Canada in 2012, and in 2013, led the NWSL's Portland Thorns, where she still plays her club soccer, to a league title.
Morgan is a cultural icon, her pink headband ubiquitous among her many fans, featured on the cover of FIFA video games and ads across the world. But it does a disservice to her astonishing soccer career to lose sight of it in the midst of all her crossover accomplishments.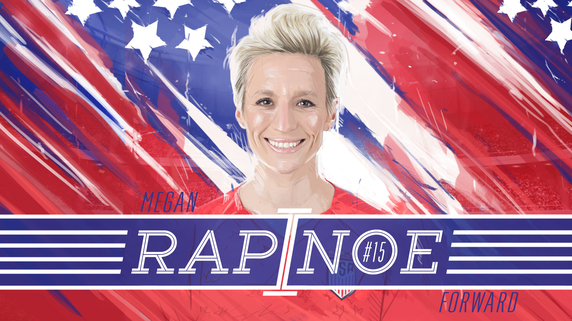 Megan Rapinoe
Equal parts vital attacking link and outspoken political change agent, Megan Rapinoe is central to the identity of the U.S. women's national team. The 33-year-old can be found across the front line, starting alongside Alex Morgan and Tobin Heath when Jill Ellis wants to utilize what she sees as her best attacking lineup.
Rapinoe grew up in California, before heading to the University of Portland, where she led the Pilots to an NCAA title in 2005, her freshman year. By 2006, she made her debut with the senior U.S. national team, and by October of that year, scored her first two goals. She's up to 153 career appearances with the USWNT and 44 goals.
Rapinoe was the second overall pick in the 2009 WPS draft by the Chicago Red Stars, and an immediate league all star. She played overseas with Sydney FC in Australia and Olympique Lyon in France, before returning to the Seattle Sounders in 2013, a mainstay there in the NWSL ever since.
Rapinoe's irrepressible wit and sense of the larger world is always on display, whether it was her impromptu performance of "Born in the U.S.A." into an on-field microphone after scoring in the 2011 World Cup or her lengthy treatises on the role of women in sports in interviews and her on-field protests in support of NFL player Colin Kaepernick. Fully healed from an ACL tear back in 2015, Rapinoe is playing some of the best soccer of her career, and her pinpoint passing and runs through impossible angles are a key part of the U.S. attack.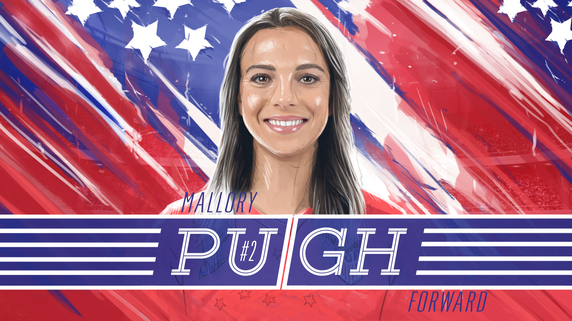 Mal Pugh
Effortless speed and a preternatural ability to find seams in the defense define forward Mallory Pugh's game, a vital part of Team USA's trophy hopes at the tender age of 21. Then again, nothing's ever gone according to other people's timetables for Pugh, who always manages to get ahead of both expectations and her peers.
Pugh, a Colorado native, was the youngest member of the United States' 2014 FIFA U-20 World Cup team, before debuting with the senior team at 17, the youngest to do so since Heather O'Reilly back in 2002. By 2016, she'd become the youngest American ever to score a goal in the Olympics. A year later, after initially committing to UCLA, Pugh decided to turn pro, and was the first pick in the 2017 NWSL Draft by the Washington Spirit, where she still plays her club soccer.
Pugh is part of a second wave of attackers on the U.S. bench, along with Carli Lloyd, who can come into matches late and take advantage of fatigued defenders who have already battled the Morgan-Heath-Rapinoe front three. Do not be surprised if Pugh breaks through yet another barrier and scores a difference-maker in France.
Midfielders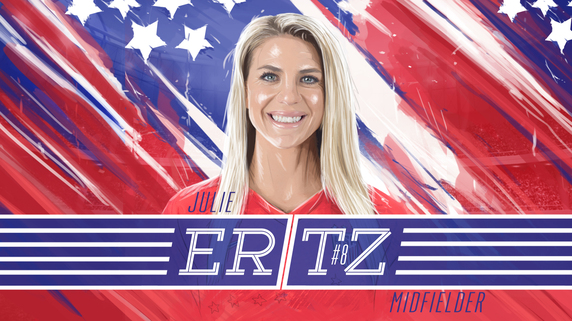 Julie Ertz
Few players have accomplished as much, amid changes to the very nature of the way they play, than Julie Ertz, an indispensable midfield link for the U.S. women's national team.
Ertz, 27, grew up in Arizona before starring at Santa Clara University and getting selected third in the 2014 NWSL draft by the Chicago Red Stars, where she's played her club soccer ever since. By 2015, she'd solidified herself as one of the best center backs in the world, partnering with Becky Sauerbrunn to create an inviolable spine for the U.S. defense on the team that won the 2015 World Cup, and performed in much the same role for the 2016 Olympic team.
But Ellis had other plans for her versatile star, and decided to shift her to midfield in 2017, something she did with the Red Stars as well. The experiment paid off, with Ertz winning U.S. Soccer Female Player of the Year in 2017, and has earned her the number six spot in the U.S. lineup heading into France. She's now made 82 appearances with the national team, scoring 18 goals. It's difficult to imagine the team functioning well without her.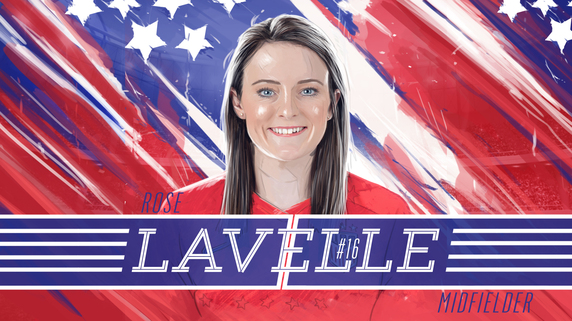 Rose Lavelle
It seems nothing can slow Rose Lavelle's meteoric rise toward becoming a critical part of Jill Ellis' plans for the U.S. women's national team. At just 24, Lavelle is the first choice attacking midfielder for Ellis, and will be on the field for the bulk of the 2019 World Cup if all goes according to plan.
The pride of Cincinnati, Ohio, Lavelle starred at the University of Wisconsin, and by 2015, while still in school, earned a call to train with the senior U.S. national team during their victory tour following their win in that year's World Cup. By 2017, she'd earned her way onto the field for a match against England, just months after the Boston Breakers made her the top pick in the 2017 NWSL draft. When the Breakers folded, her rights went to the Washington Spirit, where she plays her club soccer alongside Mallory Pugh.
Though a hamstring injury limited her for much of 2017 and into 2018, she never fell out of Ellis' preferred starting lineup, and Lavelle finds herself in peak form heading into the proceedings in France. Expect her to add liberally to her totals of 27 appearances and seven goals with the national team, and to remain a signature part of the team's starting lineup for years to come, capable of scoring on her own and finding her high-powered teammates as well.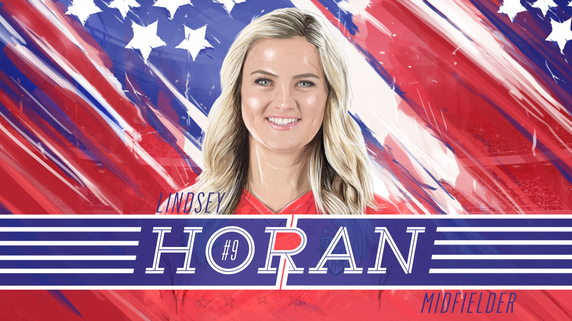 Lindsey Horan
A barrier-breaker at every turn, Lindsey Horan, 25, is primed to break through at the 2019 World Cup after surpassing expectations at every level of her soccer career. Raised in Golden, Colorado, Horan was playing for and dominating with the U-17 United States team by age 15. In high school, she played semipro with the Colorado Rush, and instead of heading to North Carolina for college soccer, she bypassed a scholarship and jumped directly to the pro ranks, playing for Paris St. Germain. She was a sensation overseas, scoring 46 goals in 56 matches for PSG.
But with a national team that strongly encourages players to play club soccer in the United States, Horan returned home, where she's been a fixture with the Portland Thorns since 2016. The attacking forward in Paris switched positions, becoming a central midfielder on both her club and national teams. The change-up didn't prevent her from becoming a mainstay with the national team and an absolute force in the NWSL, capturing the league's 2018 Most Valuable Player award.
Like her fellow midfielders, Horan combines the ability to find her teammates in opportune spots with an ability to finish when she gets her own chances. She is an integral part of the never-ending pressure Ellis' 4-3-3 lineup puts on opposing defenses, in the 2019 World Cup and for years to come.
Defenders

Abby Dahlkemper
She won't be on the highlight film as much as her more celebrated teammates, but if the United States women's national team wins the World Cup in 2019, you can be sure Abby Dahlkemper will be a primary reason why. The central defender, 26, has a track record of success that reflects her reputation as one of the best central defenders in the world, and a worthy partner in the American spine for Becky Sauerbrunn. Dahlkemper grew up in Menlo Park, CA, and stayed in-state for college, where she was a four-year mainstay on the field for UCLA. The Western New York Flash made her the third overall pick in 2015, and by 2016 she helped her Flash to the NWSL championship, which put her on Jill Ellis' radar as well.
She earned her first U.S. national team cap in October 2016, and by 2017, had impressed Ellis so much that she felt comfortable moving Julie Ertz into central midfield. While Ellis shuffled other players in and out of the lineup, Dahlkemper started 10 of 11 international matches in 2017, while earning Defender of the Year honors for her club work with NWSL's North Carolina Courage, where she still plays.
She's up to 40 appearances for the United States now, and though she's yet to score a goal, there may not be a more important American in France this summer.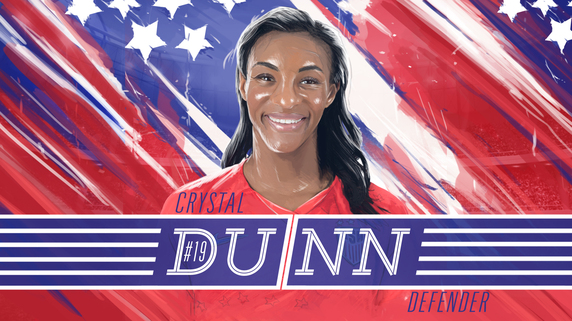 Crystal Dunn
In 2015, Crystal Dunn was the final cut for the U.S. women's national team, just missing a chance to head to Canada and win a World Cup. But heading into France 2019, even with a positional switch in the process, there wasn't any chance Jill Ellis was leaving the 26 year old Dunn home this time around.
Dunn grew up on Long Island, dominating for Rockville Centre, NY's South Side High School, before heading to North Carolina and winning an NCAA title in 2012. The Washington Spirit made her the top pick in the 2014 NWSL Draft, where she quickly established herself as one of the most exciting attacking players in the world. But in international play, the rise was slower—a brief foreshadowing of her future with a cap in 2013 playing left back, irregular minutes in 2014-15, and getting left behind in 2015. She redoubled her efforts back home, though, absolutely dominating the NWSL en route to winning the 2015 league MVP. After a trip overseas to play with Chelsea, she returned to the NWSL with a clear goal of making the 2019 World Cup squad, becoming Ellis' first choice at left back. She hasn't lost her creative flair, however, and gives Ellis another option to push opposing defenses with more aggressive lines out of her back four. Don't expect Dunn to miss another World Cup for a while.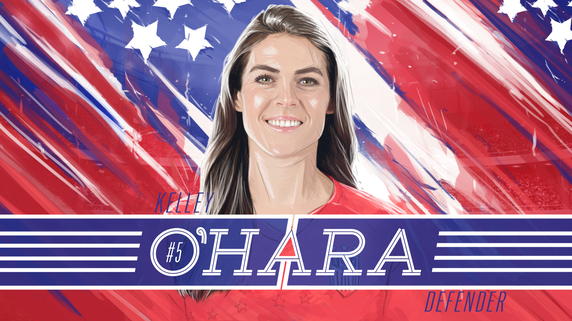 Kelley O'Hara
Throughout a distinguished career, Kelley O'Hara has seemingly found herself in the right place at the right time when the United States needs her in a World Cup. The 30-year-old, who will start at right back in the 2019 edition of the U.S. team in France, grew up in Peachtree City, Georgia, before heading to Stanford to lead the Cardinal to back-to-back trips to the College Cup. By 2010, she'd become the third overall pick in the WPS Draft by FC Gold Pride and earned her first national team call-up, originally as an attacking midfield/forward option. She moved easily between spots throughout her national team and club team career, doing the latter first for Sky Blue FC, then with Utah Royals FC, which is where she currently plays her club soccer.
Internationally, she always manages to work her way into Ellis' plans, particularly every time there's a World Cup trophy at stake. She'd missed the 2011 roster originally, but then made the trip once Lindsay Tarpley tore her ACL in one of the final matches ahead of the tournament. By 2012, she had made herself indispensable, playing every minute of the 2012 Olympics. In 2015, when Ellis needed to jumpstart the attack, she inserted O'Hara into the lineup in the quarterfinals against China, and by the semifinal win over Germany, O'Hara had scored her most important goal. Like Dunn on the opposite side of the back four, O'Hara maintains that ability to maximize an attacking buildup, and stabilizes the U.S. defensively as well. History suggests she'll be at the center of the action as this World Cup is decided, too.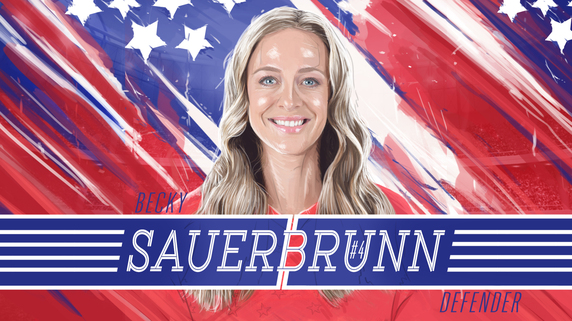 Becky Sauerbrunn
When we look back at this decade in U.S. women's soccer history, one mainstay will be among the first we name, even though she's never scored a goal with the national team. It's Becky Sauerbrunn, central defender for the ages, and a critical part of the American plans to be the last team standing in France this summer.
Sauerbrunn, who turns 34 on the eve of the 2019 World Cup, was born and raised in the soccer-mad city of St. Louis, Missouri, dominating for Ladue High School before heading to University of Virginia in 2003, where she was a four-year starter. The Washington Freedom picked her third overall in the 2008 WPS Draft, where she experienced a nomadic existence reflective of the difficulties in women's professional soccer at that time, until FC Kansas City, now Utah Royals FC, made her a mainstay on the NWSL side, a six-time part of the league's Best XI, and acknowledged master defender of her generation.
That's translated internationally as well. After appearing with the U.S. in the 2011 World Cup, she earned a start in the team's final victory in the 2012 Olympics. And the team did not play a minute without her en route to a 2015 World Cup trophy, nor are they likely to do much without her in the middle of the back line in this tournament. Sauerbrunn has made 158 appearances in U.S. colors for the senior team, and there's no sign she'll stop doing so anytime soon.
Goalkeeper

Alyssa Naeher
For years, the question hung over the USWNT's head: Who, exactly, would succeed Hope Solo in goal? The answer has turned out to be clear, with Jill Ellis making Alyssa Naeher, 31, the choice for almost all the minutes in goal leading up to World Cup 2019. It's expected Naeher will be the one getting those minutes at the World Cup as well, much as Solo dominated the lineups for years.
It is fair to say this wasn't necessarily an expected path for Naeher, who excelled early on at the craft, playing for Penn State from 2006-2009, before being selected 11th overall in the 2010 WPS Draft, and playing for the Boston Breakers both in that league, and when it folded, the NWSL as well. She earned Goalkeeper of the Year honors for Boston in 2014, but was traded to the Chicago Red Stars the following year. Not a professional resume that screamed "heir apparent."
But Naeher earned a spot backing up Solo in the 2015 World Cup, and has bested Ashlyn Harris, the other potential Solo successor, in Ellis' plans ever since the end of the 2016 Olympics. Whether she comes to be known as a force in her own right, as Solo ultimately did after replacing Brianna Scurry, or as merely one in a line that followed Solo, will largely be determined by her performance in France.
---
Catch all the action and more from FIFA Women's World Cup France 2019™.
The content is featured on https://www.directv.com/insider/ is editorial content brought to you by DIRECTV. While some of the programming discussed may now or in the future be available affiliates distribution services, the companies and persons discussed and depicted, and the authors and publishers of licensed content, are not necessarily associated with and do not necessarily endorse DIRECTV. When you click on ads on this site you may be taken to DIRECTV marketing pages that display advertising content. Content sponsored or co-created by programmers is identified as "Sponsored Content" or "Promoted Content."