Larry David is the complete opposite of the alter-ego "curmudgeon" he plays on Curb Your Enthusiasm, actor Caroline Aaron recently spilled.
Aaron, played grieving widow Barbara on Curb Your Enthusiasm Season 3. She had a recurring role throughout the season and recalled how the entire series is unscripted – which is the complete opposite of her experience playing Shirley Maisel on The Marvelous Mrs. Maisel. She also said working with David is a delight and that he is generous and supportive – very unlike the character he plays on Curb.
Larry David is 'sweet and generous'
"I'm here to tell you as a witness and a participant, not one word is written down," Aaron told Showbiz Cheat Sheet about Curb Your Enthusiasm. "It is 100% improvised, and I did almost a whole season of that." Whereas The Marvelous Mrs. Maisel script is "letter-perfect, down to the comma," she said.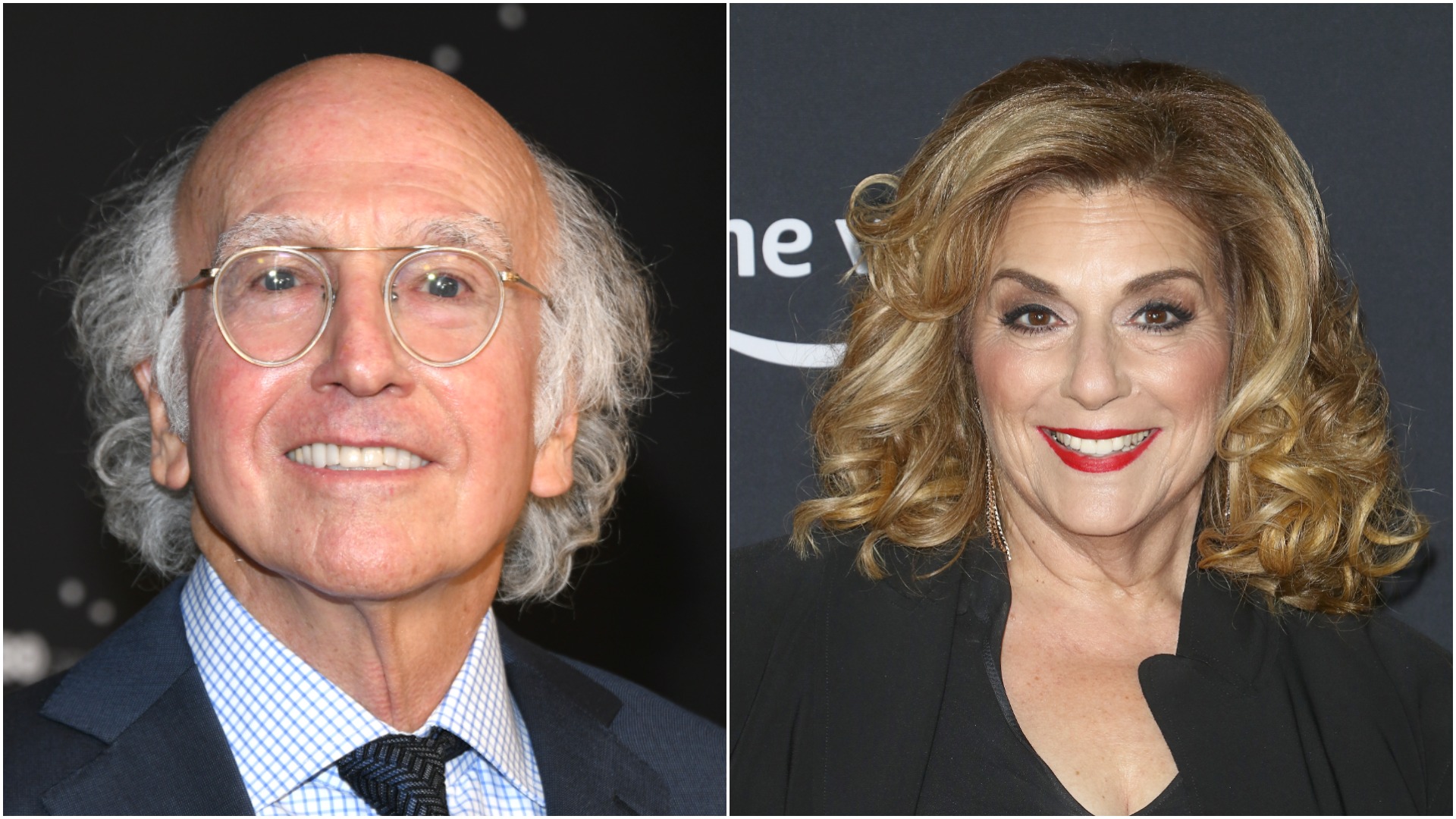 Larry David and Caroline Aaron |Araya Doheny/WireImage/Jim Spellman/WireImage
"And first of all, I'm going to give him away. Larry David is a doll," she said. "He's so sweet and generous and supportive and warm, and that curmudgeon, that is a hilarious character and not the soul of who he is. Not by any means."
Aaron isn't the first actor to refer to David as being generous and kind. Comedian Julie Goldman had a similar experience working on Curb. Goldman played hairstylist "Betty" in the first episode of season 9.
"Larry David was warm and fun and laughing," Goldman told Showbiz Cheat Sheet. "And open and willing to try things. He was respectful to everyone and professional. And he wasn't 'thirstbucketing' around. He just has his confidence even though he's not confident." 
'Curb' is shot like a jazz band
Aaron recalled that everyone on set is improvising. "It's such an interesting show to work on. I auditioned with an improv. And then I was cast," Aaron recalled. "Then it was my first day of work, the AD came up to me and said, 'We have two more setups and then it'll be your scene.' And I went, 'What scene? I don't have a scene.'"
Larry David Takes a Peek Into Season 9 | Curb Your Enthusiasm (2017) | HBO
"You have these beat sheets and I think all it said was 'They deliver a picture to Barbara that her friend had framed for her. And they notice a picture of her and her deceased husband.' And that's it," she recalled. "That's all you get. And then you go!"
Improv isn't limited to just the actors. "And what happens is none of the camera people know where anybody's going," she exclaimed. "So they're like a jazz band. Everybody has a camera on them and they just kind of go for it."
You don't have to scour your TV guide to find episodes of "Curb Your Enthusiasm," you can stream episodes anytime with HBO Max.
Caroline Aaron reveals how Larry David builds 'Curb' scenes
Aaron dished about how David creates a scene on Curb Your Enthusiasm. "First of all, Larry is a great audience," she said. "If you say something that he likes, he just bursts out laughing."

Larry's Back & Nothing Has Changed | Curb Your Enthusiasm Season 9 Trailer #2 (2017) | HBO
"Ted Danson was on that day and said, 'We wanna take the pressure off of you.' He said if 2% of an improv is usable, that means you're in the winner's zone. We're going to do it over and over and over again."
Aaron shared how Curb scenes are built. "So what you would do is you would do the scene and then Larry would stop and then go, 'Keep that line' and let's go again and keep this line and go again," she said.
"It's like dipping a photograph into chemicals," she reflected. "You pull it out and the image keeps coming. Eventually, the image becomes clear. That's kind of the way Curb was made. I mean, nothing is done except improv. Amazing that all those stories come from Larry David's genius, for sure. Absolutely. There are the story arcs, but not any of the lines."
This article was written by Gina Ragusa from The Cheat Sheet and was legally licensed through the Industry Dive Content Marketplace. Please direct all licensing questions to legal@industrydive.com.