Even with the power of the Elder Wand, fans of the Wizarding World couldn't have conjured a more magical way to experience the brand new trailer (a day early!) for Fantastic Beasts: The Crimes of Grindelwald.
Yesterday, a crowd of passionate superfans filled a small, exclusive screening inside the Whitby Hotel with whoops and cheers throughout the new trailer, released worldwide today. But we weren't alone. Sitting among us for two back-to-back viewings of the spectacular new trailer were many of the films' stars: Ezra Miller, Dan Fogler, Claudia Kim and Callum Turner.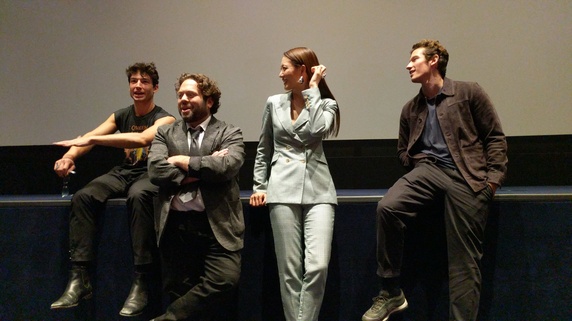 Just your every day Monday, hanging with Ezra Miller. (Warner Bros.)
There was such a dizzying amount of exciting new information revealed, Miller himself successfully advocated for a third showing — to the delight of the electric crowd.
It was just one of my many star-studded stops on a whirlwind adventure celebrating the release of the new trailer.
The festivities began early, as attendees awoke to a video message in their email from the film's star Eddie Redmayne expressing his regret over missing the event to shoot another film.
Any disappointment was quickly eased with swag bags packing a Fantastic Beasts Alex and Ani charm bracelet, Wizarding World LEGOs, a t-shirt and, of course, a wand.
"Oh my god, it's so beautiful!" one fan exclaimed while opening a charmingly packaged Elder Wand replicate. "I officially have too many wands," remarked another only to be called "hashtag wand queen" by a nearby fan.
But even the most cynical "no-maj" (the American equivalent of "Muggle") among us couldn't possibly resist feeling the magic as the group was joined by none other than the mastermind of the Wizarding World, J.K. Rowling herself.
Fresh from an appearance on NBC's TODAY Show, Rowling appeared for photos, mingling, and a little dish. Between hugs, high-fives and fist-bumps, she warned the crowd to stay quiet until the end of the trailer, "because there is a name you'll want to hear." You could feel the room vibrating.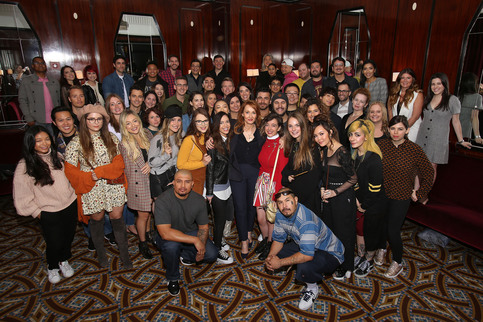 NBD just me in a photo with J.K. herself. (Warner Bros.)
Of course, she was right. Having seen the trailer a full day before its release, I was sworn to secrecy by threat of being Obliviated. Hate me yet? Luckily for you, the new trailer dropped this morning: