The wait is almost over for the long-anticipated revival of Showtime's Dexter. Dexter: New Blood will premiere on Nov. 7 and will pick back up 10 years after the events of the finale in Dexter. It's also been almost eight years since the series finale aired. With that said, some fans might need a little brush-up on Dexter before the revival. Michael C. Hall recently shared the four best episodes of Dexter that fans should watch for a quick binge.
Michael C. Hall as Dexter Morgan | Dan Littlejohn/CBS via Getty Images
What is the plot of 'Dexter'?
Dexter Morgan is a blood-splatter analyst for Miami Metro Homicide. By night, he is a serial killer who takes down other serial killers. Dexter has an insatiable urge to kill that developed from a traumatic event in his childhood. He was adopted by Harry Morgan, a homicide detective who taught Dexter never to kill an innocent person. Dexter's sister Debra also works for Miami Metro as a cop. Through all eight seasons, Dexter struggles to keep his double life a secret and protect the people he cares about.
Michael C. Hall recommends watching the episodes in order
In an interview with Entertainment Weekly, Michael C. Hall stated, "If you're starting to watch Dexter, I recommend you start with the first episode and then watch them in order." Of course, this is the best way for fans who have never seen the series to understand what's going on. However, perhaps some fans don't have time to watch all eight seasons before the revival. Or maybe some would like a quick recap before Dexter: New Blood. If so, never fear. Hall went on to recommend four of the best episodes of the series.
Michael C. Hall's 'quick binge' of 'Dexter'
First, Hall recommends fans start with the pilot episode. "The pilot episode is really good," Hall told Entertainment Weekly. "I mean, it's one of my favorites." Next, Hall recommended season 1, episode 10 "Seeing Red." In this episode, Dexter learns of a traumatic event that occurred during his childhood that likely turned him into the person he is today. "If nothing else, I love it because I got to do this really fun face plant into a room full of blood," Hall said to Entertainment Weekly. "And it was like a sort of macabre slip-and-slide."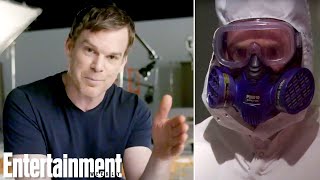 Michael C. Hall's Guide to Start Watching 'Dexter' | Quick Binge | Entertainment Weekly
Then, Hall recommended an episode with a great bit of acting by one of his fellow cast members. "I really love the episode in season 3 where Dexter and Miguel Prado, played by Jimmy Smits, end up having a face-off on the roof of a building downtown," Hall told Entertainment Weekly. "Jimmy Smits does this amazing thing where he makes this gesture while he's yelling at Dexter," Hall continued while demonstrating. "It always really stuck in my mind." This happens in season 3, episode 10, "Go Your Own Way."
Finally, Hall's last pick was season 4, episode 12, "The Getaway." The season 4 finale shows one of the most shocking twists in the entire series. "If you haven't seen the show yet, I won't say anything more than that," Hall told Entertainment Weekly. "You'll see what I mean."
This article was written by Erica Scassellati from The Cheat Sheet and was legally licensed through the Industry Dive publisher network. Please direct all licensing questions to legal@industrydive.com.