Rita Ora
You're currently performing around the world on your The Girls Tour—how do you keep yourself sane and grounded when you're performing every night?
You know it's really crazy 'cause I'm constantly moving! And yes, I'm a little delirious from the lack of sleep, but the key is I just go with the flow. When I start acknowledging that I'm tired, that's when I actually get tired! I just pretend like it's not happening. Also it goes by so fast, I don't actually have time to adapt to anything, not even time zones.
What can you tell us about the progression of your second studio album? I know your fans are dying to know!
Well, it's been a journey! Sadly, it's not really been positive. I've just had to fight so hard for this album in so many ways! I think my fans can just expect tears, blood, sex, rock and roll, and the fulfillment of it finally happening! November is when I'm putting it out, because it's my birthday month.
Fantastic! So it's a birthday gift to yourself, and your fans.
Exactly!
You've dipped your toes into so many creative waters: music, acting, and fashion! Congrats on being signed to Kate Moss' agency! What other projects do you have up your sleeve that you can tell us about?
It's so exciting to have done that deal with my good friend Kate, who's just started a creative modeling agency. I love doing things that are a bit out of the box, and I always want to do something that nobody really expects. It's like, "How the f**k is Rita doing that?" I ain't going nowhere, and I want to make that really clear. My journey's been hard, but it's just begun to be honest! I just try to keep it as fresh as possible at all times. Everything from how I dress, to what I do!
It's been an evening of Albanian beauties with yourself and Bebe Rexha on the red carpet tonight! Can you talk a bit about how you think growing up in London, which is truly such a diverse and integrated city, has influenced your sound?
Without London I don't really know if I'd have the confidence to express myself! In every way—through my clothes, my music, and just being an outspoken woman. Maybe it's an Albanian thing, 'cause me and Bebe are the same way! We like to say what's on our minds. Also, I truly accept individuals. People may think some things are crazy, but to me individuality is beautiful. I really think that at its core, that's how London has influenced me.
Bebe Rexha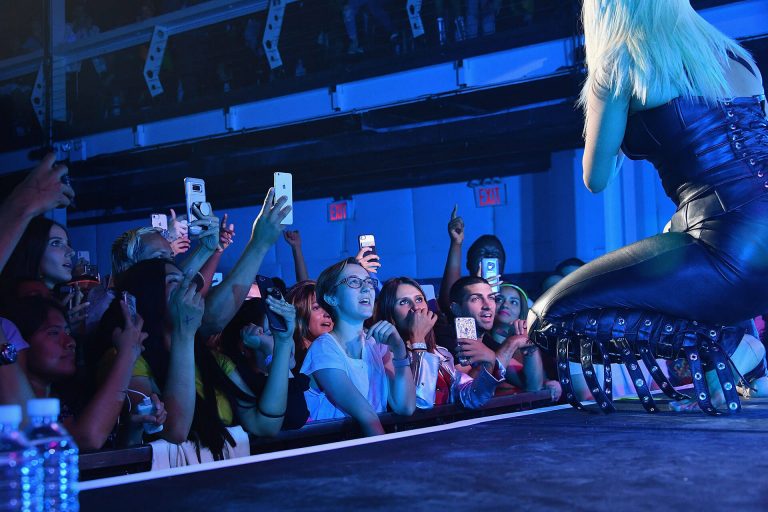 Your debut album Expectations just came out in June—can you tell us a bit about the process of creating the album?
You know, it was really just about me going through life, and lowering my expectations—or sometimes not having any at all! I think that's when the best stuff happens. Learning that you can't control everything. So for me, it was a bunch of life lessons that I just put into an album.
I'm a Mess is the first single from your album, and it touches on some really personal subject matter. Tell us a bit about the message that you hope listeners take away from the track.
For me, the song is about celebrating your insecurities and your imperfections. I think we all have a story that nobody really knows about. The song is about saying, "I'm not perfect, but whatever! None of us are!" I want to tell my fans that that's okay. In the world that we live in right now, everybody's always telling us that we have to look this way, or sing that way, or dress this way. And to be honest, I don't like that!
The music itself is obviously always your top focus, but can you talk a bit about how music videos play a part in your creative process?
I'm definitely very visual, and when I write my songs I usually have an idea of what the video is going to look like. And if I don't it's usually a bad sign! Ha! I think music videos really help take the song and its message to the next level—it can also bring new light to a song and give your fans a little bit more insight into where you're coming from. For example, the video for I'm a Mess was inspired by Girl, Interrupted. When people see the video they know, "Oh, okay. This is something a lot deeper." Through the video I was able to tell my fans about my struggles with anxiety and depression. I've noticed that makes me a lot closer to my fans too, which is really important for me.
Who are some of your earliest influences? Doesn't have to just be music-related—could be growing up in Brooklyn, or maybe some Albanian traditions you grew up with?
Well I've been inspired by so much! I've definitely been inspired by my culture. My mom, who's a very strong woman, taught me to be very independent. She taught me not to wait on any man, and to just do my thing. She's been a huge inspiration to me! I also grew up listening to a lot of Alanis Morissette and Lauryn Hill, and a lot of strong females. But I've had so many inspirations… I love food too! I love watching Bobby Flay, and getting inspired through food. So, I'm very creative—honestly I love all things creative!
Madison Beer
Tell us a little about your first studio EP As She Pleases which was released this past February. You worked on the record for three years—what was that process like?
Well some of the songs on the record were songs I wrote when I was 16! I really feel like I was really growing as I made the EP. So every time the album was finalized, I was like "Wait! I want one more edit. I wanna change this about this song." When it comes down to it I'm really happy with it, and I feel like it's kind of a timepiece—it's something that I'm going to look back on and think, "Oh, how cool! That was my real first moment as an artist, when I did something by myself!" So it's been a really big moment for me.
You also just ended an international tour in late May—how was it? Have you come down from that incredible experience?
It was just so much fun and so dope! I really feel like I'll never feel that way again until I'm back on tour! But yeah, it was just crazy. I didn't expect it to be how it was. I feel like I always paint a visual of what I think something is gonna be like, and then it's never that. It's always just a million times better! The fans were really excited, and I think it was really cool for them because it was really the first major set of performances that I've ever done!
Were there any fans in particular, from specific countries, that you were blown away by?
London was a huge show, and it was unbelievable. But I would say Brussels! It was one of the smaller shows on the tour, but it was the most insane crowd. They were so hyped to see me!
Can you talk a little bit about some of your earliest influences? You're a New Yorker—do you feel like being a New Yorker has played a role in your sound or your style?
I think it has! I feel like I get my edge from being a New Yorker. I've been listening to all different types of music my entire life. But honestly, Britney Spears was someone who I was obsessed with growing up. It wasn't even about her music, it was more about her attitude. It was something that I just took on, and I've really developed within myself—that kind of bad ass attitude. As a young female in the industry I think it's really important. And I think that attitude has really helped shaped my sound. So, I can thank Britney for that!
Lion Babe
Like many folks, we discovered you through the Insecure soundtrack. Your single "Hit The Ceiling" is such a banger! You keep teasing us with incredible singles, so what are you currently working on and when can we expect another EP?
Jillian Hervey: Well, you're definitely getting more than an EP! We can tell you that. We've been in the studio almost every day this year, working on our new project. So, it's coming very soon! We think towards the end of the year, but we don't want to give too much away because things take time and we don't want to disappoint anyone! So, sorry you gotta wait, but we'll definitely be giving you some stuff along the way.
Do you guys remember the first record you ever bought? A cassette, a CD, vinyl?
Lucas Goodman: The first cassette I remember getting and listening to non-stop was the Lion King soundtrack!
JH: The first CD I ever bought was The Miseducation of Lauryn Hill. I didn't really buy CDs at the time—I would always just listen to whatever my sister had or what was in the family, but that was the first one where I was like, "I need to go to Sam Goody, and get this CD!"
You're DJing tonight! What do you think makes for a good DJ? Do you have any golden rules that you follow when you're trying to get a party started and keep it going all night long?
LG: Just get 'em dancing and don't let 'em go! That's pretty much it!
So, no slow jams in between the higher intensity stuff?
LG: Well, you can do it. You just have to make sure there's a nice balance. In the same way that you can't go hard the whole time! When you bring it down and bring it back up, it's a flowing dynamic.
JH: I try to just picture myself at my most ideal party—at my happiest state of being, and then just vibe that way. Hopefully, people feed off my energy and they start to feel like they can dance and just let loose. So, that's my goal, is to just be a muse of fun. Have the crowd thinking "Hey she looks like she's having fun! I'm going to have fun too!"

Advertisement